This year looks like another U-20 World Junior Championships in which the Portland Winterhawks will have representation. This got me thinking: lets take a look at the history of the Portland Winterhawks at the WJC U-20s.
Babych
1978:
-
Wayne Babych (Canada):
Just their 2nd year as a franchise and the 2nd year of the tournament as an official IIHF tournament (1974-76 were not included), Portland had representation on Team Canada in the form of the elder Babych. While playing on a team with Wayne Gretzky, Babych, was 10th in the tournament in scoring with 5 goals and 5 assists for 10 points. Canada lost to Sweden in the Semi-Finals before finishing with a Bronze Medal.
1979:
-
Keith Brown (Canada):
Canada dropped their first 2 games in the tourney and went on to a 5th place finish. Brown notched 2 assists over 5 games as the Soviet Union won their 3rd of 4 straight Gold Medals.
1982:
-Gary Nylund (Canada):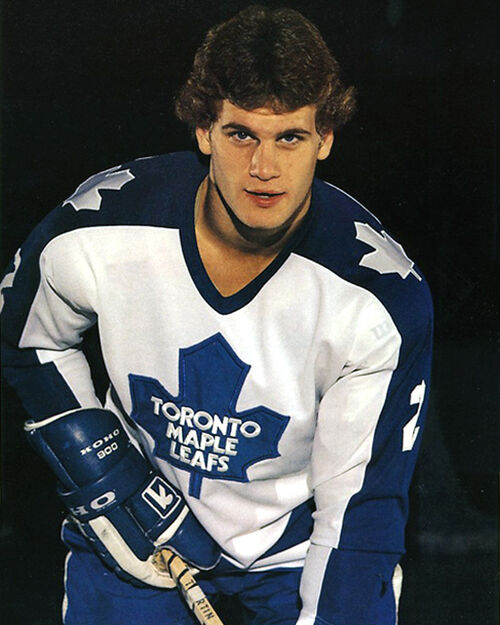 Nylund
Nylund was a part of Canada's first Gold Medal winning squad, notching 1 goal and 3 assists for 4 points in the tourney. The WJC was held in various cities in Minnesota this year with some games played in Manitoba and Ontario.

1984:
-Randy Heath (Canada):
Heath tallied 3 goals and 6 assists for 9 points and Canada went on to a 4th place finish. The Soviet Union continued it's domination of the official tournament with their 6th Gold Medal in the 8 years.
-Alfie Turcotte (USA):
Turcotte was the Winterhawk's first representation on a team outside of Canada and he notched 2 goals and 9 assists for 11 points, leading the team in scoring. The USA finished 6th overall. One interesting note from this tournament is that the leading scorer was Finland's Raimo Helminen who had 24 points, which set the record. He would go on to set the record for games played internationally and for playing in the most Olympics.
1985:
-Jeff Rohlicek (USA):
Rohlicek had 2 assists, helping the USA to a 6th place finish, as Canada won it's 2nd Gold Medal. Another highlight of his career was scoring the OT winner for the Springfield Indians in the AHL Calder Cup deciding game in 1990.
1987:
-Glen Wesley (Canada):

Wesley
Wesley was on the team during the infamous
"Punch-up in Piustany."
Canada was playing for the Gold Medal, needing to win by 5 or more goals, while the Soviet Union had already been eliminated (strange I know). The melee was started when Pavel Kostichkin 2 hand slashed Theoren Fleury off a face off with Canada leading 4-2 in the 2nd period, sparking a fight between the two. Then a Soviet player left the bench to help defend Valeri Zelepukin who was being pummeled by Canadian Mike Kean and was splaying the game with a separated shoulder. Both teams were disqualified for their actions. Wesley finished the tourney with 2 goals and 1 assist for 3 points.
1992:
-Steve Konowahlchuk (USA):
The Salt Lake City, Utah native helped the U.S. to it's 2nd medal (both Bronzes), by scoring 4 goals overall. This WJC was unique in that the Soviet Union had just been dissolved and they were represented by the CIS or Commonwealth of Independent States. They went on to win the Gold anyways.
1993:
-Adam Deadmarsh (USA):
Deadmarsh was born in B.C., but had dual citizenship and was able to represent the USA. He was held scoreless in the tourney, which is the first time a Winterhawk had been at this tourney. The USA received 4th after losing to both Sweden and Canada, who would go on to place in the top two behind storied names like Peter Forsberg, Markus Naslund and Paul Kariya. Forsberg set the new record for points in the WJC with 31 in only 7 games, though the Canadians would win their 6th Gold Medal. Another interesting note from this year is that it occurred right after Czechoslovakia split into 2 nations, though the two would still play together as the Czech and Slovak Republics.
1994:
-Adam Deadmarsh (USA):
The first Winterhawk to play in consecutive tournaments, though he would again go scoreless and the Americans would finish even lower; 6th overall, even struggling to a 1-1 tie with last place Switzerland. Canada won it's 2nd consecutive Gold Medal and 7th overall, scoring at least 5 goals, in all but one game.
1995:
-Adam Deadmarsh (USA):
After playing 48 games with the Quebec Nordiques, Deadmarsh was sent to the WJC, before returning to the Hawks. He is the only Hawks to play 3 times at the WJC. He played much better notching 6 goals and 4 assists, leading the U.S. to a 5th place finish. The neighbors to the North, won another Gold Medal, their 3rd straight and 8th overall.
1996:
-Richard Zednik (Slovakia):
The first internationally born Winterhawk to represent at the WJC, Zednik scored 5 goals and 2 assists for 7 points, as Slovakia stumbled to a 7th place finish, oddly tying the rival Czech Republic the one time they played them. Canada won 4-1 in the Gold Medal game over Sweden.

Isbister
1997:
-Brad Isbister (Canada):
For the first time in 10 years, the Hawks had representation on the Canadian team in the form of the Edmonton born power forward. He scored 4 goals and 3 assists for 7 points, including a goal in their 2-0 win in the Gold Medal game against the U.S. It was a record setting 5th straight Gold Medal.
1998:
-Andrej Pokonicky (Slovakia):
Andrej tied for 4th in the tournament in scoring with 3 goals and 5 assists for 8 points as they had an up and down WJC; beating the U.S., but losing to teams like Switzerland and Kazakhstan. The Slovaks would end up barely escaping relegation with back to back wins over Germany.
-Marian Hossa (Slovakia):
He formed a formidable line with Ladislav Nagy and fellow Hawk: Podkonicky also tying for 4th in tourney scoring. Hossa also played in the 1997 WJC, but I do not include him because he did not play with the Hawks until the next season. He also played for Slovakia at the 1997 World Championships. Thanks to the over time winner from Niklas Hagman, Finland would win the Gold Medal over Russia.
Morrow
1999:
-Brenden Morrow (Canada):
Morrow had 1 goal and 7 assists for 8 points as Canada lost in Over Time of the Gold Medal Game to Russia behind a game winning goal scored by Artem Chubarov.
-Andrew Ference (Canada):
The defending Memorial Cup champions had two representatives in the same year for CAN for the first time, as Ference notched 1 goal and 2 assists for 3 points.
2000:
-Marcel Hossa (Slovakia):
The younger Hossa did not have the same production as his brother in the WJC, notching a lone assist as Slovakia barely escaped relegation with a 1-0 10 minute tie-breaking game win over Ukraine. It was made worst by the fact that their rivals: the Czech Republic won the Gold Medal with a shootout victory over Russia.
2001:
-Jozef Balej (Slovakia):
The electric Slovak had 3 goals and 3 assists, but his team still stumbled to an 8th place finish overall and the Czech Republic won their 2nd consecutive Gold Medal behind the Calgary Hitmen's Pavel Brendl.
-Marcel Hossa (Slovakia):
Marcel had a better WJC, this time scoring 1 goal and adding an assist for 4 total points. His total of 5 pts in 2 WJCs is less then Marian's 8 in 1998.
2003:
-David Turon (Czech Republic):
After having representation on 10 straight WJCs, the Hawks had nobody play in 2002, but responded with Turon being named to the 2003 C.R. team. Turon would end up playing only 43 total games for the Hawks. His WJC team would fail to accomplish what the previous years team's had done, losing in the Quarter-Finals en route to a 6th place finish. Russia would win the Gold over Canada 3-2.
Turon had 1 goal in the tourney.
Coburn
2004:
-Braydon Coburn (Canada):
2 goals and 1 assist for 3 points, as Canada lost to U.S. 4-3 in the Gold Medal game. This was the Americans first ever Gold. Zach Parise was voted Tournament MVP.
2005:
-Braydon Coburn (Canada):
Probably the most dominant a Canadian team has ever played at the WJC, as they only allowed more then 1 goal once and outscored opponents 41-7 in the 6 games behind talented future NHLers like Patrice Bergeron, Ryan Getzlaf, Jeff Carter and Sidney Crosby just to name a few. They blew out Russia in the GM game 6-1, beating future NHL greats Evgeni Malkin and Alex Ovechkin.
2007:
Stefan Langwieder (Germany):
The defensive D-man would play only one year in Portland, but represented Germany at the '07 WJCs. Stefan had no points in the tourney and Germany finished with a 1-4 record, getting relegated for the next year's tourney. Canada won it's 13th title behind Tri City American Carey Price, who was MVP.
2009:
-Radim Valchar (Czech Republic):
After being left off of the 2008 team, Valchar made it in '09, notching 1 assist in 6 games, as the C.R. finished 6th overall. Canada continued it's domination with it's 15th title and 5th consecutive. John Tavares was named MVP.
2010:
-Luke Walker (USA):
The first Winterhawk to represent the U.S. since Deadmarsh, 15 years prior., the gritty two way player notched 1 assist in the tourney as the U.S., behind scoring leader Derek Stepan won it's 2nd title 6-5 in OT over Canada. John Carlson scored the winner.
-Nino Niederreiter (Switzerland):
-El Nino' scored 6 goals and 4 assists for 10 points, finishing tied for 7th in tourney scoring. The, mostly no-name Swiss advanced all the way to the Bronze Medal game before being dispatched by the Swedes 11-4. Future Hawk Luca Sbisa also played for the Swiss.
2011:
-Ryan Johansen (Canada):
The big centerman scored 3 goals and added 6 assists for 9 points as Canada collapsed in the Gold Medal game, letting Russia score 5 un-answered goals after taking a 3-0 lead and watch Gold slip right through their fingers. Johansen finished tied for 6th in tourney scoring. He was the first Hawk to be named to the All-Star team at the tourney.
-Nino Niederreiter (Switzerland):
Nino notched 5 goals and 2 assists for 7 points as the Swiss made it to the quarters before being ousted by Canada. They would finish 5th overall.
-Sven Baertschi (Switzerland):
Sven scored 1 goal and 1 assist for 2 points, making it the first time 3 different Hawks scored in the same WJC.
2012:
-Sven Baertschi (Switzerland):
The Swiss and Sven both had poor outings, as they barely avoided being relegated and he was held off the score sheet for the entire tourney. Sweden won gold for the 2nd time 1-0 in OT over Russia behind
Mika Zibanejad's winner.
Jones
2013:
-Seth Jones (USA):
The big D-man from Texas had 1 goal and 6 assists in the tourney for 7 points, helping them to a 3-1 Gold Medal Game win over Sweden. This was the U.S.' 3rd title and Goalie John Gibson was named MVP.
-Ty Rattie (Canada):
3 goals for the sniper, including the only one for Canada in their 5-1 Semi-final loss to the USA. The Canadians would finish in 4th place overall, losing the Bronze Medal game in OT.
-Tyler Wotherspoon (Canada):
1 goal and 1 assist for the D-man in his only appearance for the national team outside of the WHC-17s.
2014:
-Nic Petan (Canada):
4 goals and 1 assist for 5 points as Canada went home without any medals for the 2nd consecutive year. It was nearly the same storyline as the previous year as they went unbeaten in group play only to fall twice in a row when it really counted.
-Taylor Leier (Canada):
The fantastic 2-way player was added after his great play in the Subway Series, but could not find the score sheet in the tourney.
-Derrick Pouliot (Canada):
Paired with future #1 NHL pick Aaron Ekblad for most of the WJC, he had 1 goal and 4 assists for 5 points and finished +2 overall. Future Winterhawk Mat Dumba also played for Canada.
Petan
This year Chase De Leo (USA), Nic Petan (Canada) and Oliver Bjorkstrand (Denmark), look to make their teams out of training camps and add more names to this very long list that includes 5 gold medal winners, 4 silvers and 2 bronzes. The overall career scoring leaders among Winterhawks are as follows:
Turcotte (USA)- 11

Babych (Canada)- 10
Deadmarsh (USA)- 10
Heath (Canada)- 9
Johansen (Canada)- 9
With 4 points or more in this tourney, Petan will crack the top 5 all time Hawks WJC performers. That is if he makes the squad of course.
If all three players at camps make their squads it will mean 3 years in a row that 3 Hawks have played at the tourney for the best players at this age level in the world and 4 of the last 5 years that this is the case.
The tournament gets underway on Boxing day (12/26) and continues through January 5th.