Walker Signs Extension in Austria:
Walker
-Former Winterhawk: Luke Walker (2007-10)
signed a 1 year contract extension with the Graz 99ers of the Austrian Erste Bank Eishockey Liga.
Last season was Walker's second playing in Europe but first playing in Austria as he played 2013/14 in the KHL for the Croatian club: Medvescak Zagreb. For Graz last year he dropped 31 points in 51 games and was his teams 2nd leading scorer. In 2015/16 he will be Graz's leading, returning scorer and will be looked at to help carry the team.
How Much Scoring Did Hawk's Lose?
-Something that Alan Caldwell over at Small Thoughts at Large does seemingly every year is the tabulation of how much scoring each team is losing from the last season. Until we get his work, I thought I would look at what the Winterhawks are likely losing.
Bjorkstrand
Here is whom the Hawks are for sure or at least not very likely to get back and their point totals from 2014/15:
Oliver Bjorkstrand 63-55- 118 pts
Nic Petan 15-74-89 pts
Chase De Leo 39-45-84 pts
Miles Koules 26-32-58 pts
Layne Viveiros 8-35-43 pts
Anton Cederholm 9-10-19 pts
Adam Henry 8-10-18 pts
Josh Hanson 1-9-10 pts
Tyson Predinchuk 2-6-8 pts
Josh Smith 0-1-1 pt
Here are Portland's returning scorers and their point totals from last season:
Paul Bittner 34-37-71 pts
Dominic Turgeon 18-25-43 pts
Alex Schoenborn 15-18-33 pts
Keoni Texeira 8-18-26 pts
Evan Weinger 7-19-26 pts
Blake Heinrich 5-17-22 pts
Skyler McKenzie 4-12-16 pts
Alex Overhardt 2-9-11 pts
Ethan Price 4-5-9 pts
Brendan De Jong 2-3-5 pts
Colton Veloso 1-0-1 pt
Austin Gray 0-1-1 pt
Jack Flaman 0-1-1 pt
Some quick math reveals that Portland is losing 448 points from last years squad and is returning 304 total points. That means they are returning only 40.4% of their points from last season.
Looking just at goals, they will be losing 171 goals and returning 115 goals. This means they are returning 40.2% of last year's goals.
So I guess it's pretty easy to say that Portland is only returning 40% of last year's offense and thus losing 60%. That is a massive loss of point production from last year and will mean that they need a ton of increased offense from the likes of Turgeon, Bittner, Iverson and Schoenborn, combined with more goals from rookies Rodrigo Abols, Carl Ericson, Jack Dougherty and Caleb Jones to be as successful as they were last year.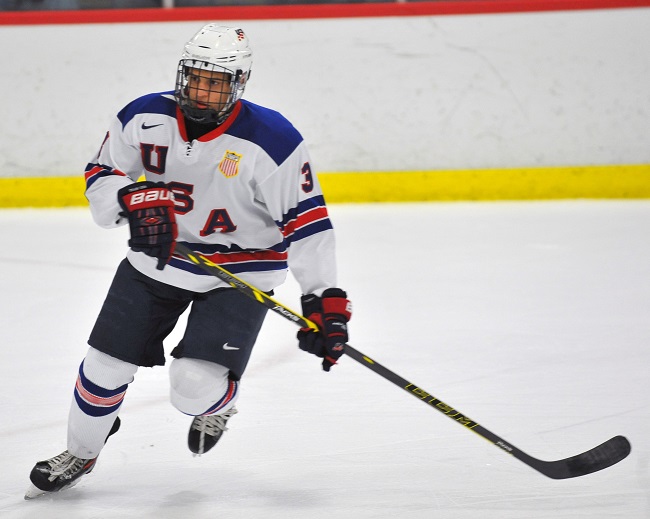 Jones
The recipe for success for Portland this year is going to have to be a much better defense. They will need to give up far fewer then the 217 goals they gave up last season. With a top 4 Defensive corps of Jones, Dougherty, Texeira and Heinrich, combined with a possibly improved Adin Hill, this improvement is possible. How many fewer goals they will give up this season depends on much more then this though and some of Portland's best possession and defensive forwards are not returning.
Another year in the WHL for Portland Coach Jamie Kompon is perhaps the best asset that they have entering this season as the Hawks team defense got better as the season and playoffs went on last year.
We will find out soon just how much this lost offense will impact this year's team.