— Portland Winterhawks (@pdxwinterhawks) October 29, 2015
So all the anticipation on whether or when the Portland Winterhawks would add an overage player is over. The Hawks traded two conditional third round picks to the Brandon Wheat Kings for 20-year-old Latvian winger Rihard Bukarts. Bukarts takes the last available overage spot on the team, as well as, the last import spot. There was an import spot available, due to Carl Ericson suffering a season ending injury earlier this month.
Bukarts is a point a game player in the WHL with 137 points in 137 games over two plus seasons with Brandon.
Apparently one of the third round picks dealt is in 2017 and the other is a conditional pick that could be in 2016 or 2018.
Bukarts gives Portland something in the lineup that they do not currently have a ton of and that is speed. The 20-year old is small (5'9") but makes up for it with speed and elite level play making.
Here is the write up from Future Considerations regarding Bukarts: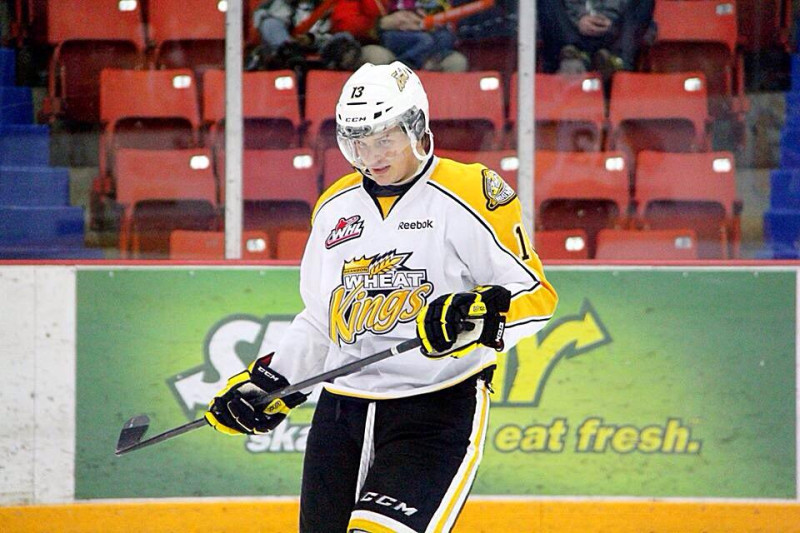 "Bukarts is a quick and nimble skater who looks to generate offense every shift. Blessed with crafty hands he is a threat to make a seeing eye pass to a teammate or deke out a defender one-on-one before getting of a quick wrister. He has some work to do in his own zone and in showing a willingness to play in the tough areas on the ice. (November 2013)"
This is a little outdated, but I believe it covers what his strengths and weaknesses are still to this day. He is a fantastic play maker, but can be victimized at time, by not covering his man on the point in his own zone. Portland's forwards also won a lot of board battles vs. Bukarts this last Sunday when the two teams played.
With those negatives though, comes a player who can create for others and himself offensively. Over the last four games, Portland has done a great job of buying into Coach Jame Kompon's system by blocking shots and winning a lot of 50/50 battles. I still was concerned, come playoff time that Portland lacked a true play maker (outside of maybe Rodrigo Abols) that could set up scores when it really mattered come playoff time. Bukarts has proven to be that guy with 18 points in 16 playoff games during Brandon's run to the WHL Final.
Interestingly enough, with the addition of Bukarts, Portland now has players in their lineup that have played in the last three straight WHL Finals.
Bukarts playing for Latvia
The question as to where Bukarts fits on the roster seems like it easily answered. Bukarts is from Jurmula, Latvia not far from Abols' hometown of Riga, Latvia. They are a year apart, so missed playing with each other in their own country, for the most part. However, Bukarts was an assistant captain for the Latvian U18 team when Abols played one game for them in 2012/13 and Bukarts played 14 games for the Latvian U-20 team in 2013/14, while Abols played eight games during that season. There is a chance in that span the two have played a handful of games together, but likely not enough to have developed some chemistry.
That having been said, the spot next to Abols and opposite Paul Bittner still seems like the logical fit for someone of Abols' skill set. Abols and Bittner could use someone like Bukarts, who can possess the puck for lengths of time in the opponent's zone and create scoring chances for them.
The two unfortunate things about this acquisition though is that Carl Ericson had to be released by Portland to open up the import spot and Evan Weinger likely loses his spot on the Hawks' second line. Weinger had done really well with the increased playing time and you could tell he was growing more and more with each game while playing with skilled guys like Abols and Bittner. He will likely move down and play on the third line with Skyler McKenzie and Alex Overhardt, bumping Colton Veloso to the fourth line with Brett Clayton and Ryan Hughes. This is all conjecture of course, but it is what makes the most sense. We will definitely know more when Portland takes on Everett tomorrow night at Xfinity arena.
Bukarts should be in the lineup as Brandon just played in Everett last night and he does not have to travel anywhere to meet up with the team.
Here is Bukarts' shootout winner over Spokane last week.