Vancouver (25-30-1-2, 53 Pts, 3rd in B.C. Division) @Portland (33-20-1-3, 70 Pts, 2nd in U.S.)
The Portland Winterhawks, host the Vancouver Gianta in the last of their 4 game season series. The Hawks are hoping for a win to earn a split. Both teams have won the matchups at home up until this point.
Play on the road has been an issue for Vancouver, as of late this season. Outside of a 6-2 win last Saturday, over a depleted Tri City Americans squad in Kennewick, the Giants have lost 5 straight on the road by a combined score of 29-4 against. Scoring goals has been a major issue away from the Pacific Coliseum as they have been shut out 8 times this season on the road. The Giants have not won a road game vs. a non wildcard seeded playoff team sine December, 12th, when they beat Victoria 6-3.
The Portland Winterhawks meanwhile have won 9 straight at home, last losing on December 31st to Seattle, without the services of Oliver Bjorkstrand, Nic Petan and Chase De Leo. Scoring goals has not been an issue for the Hawks as they have scored 6 goals or more in 4 of the last 5 home games.
This time of year, after the pro and college football seasons are over, the crowds tend to grow and the Hawks seem to feed off the energy. Also, chemistry among the #s 2 and 3 lines seems to be getting better, providing scoring depth, as 6 of the Hawks 12 goals over the last 2 games, were scored by them.
Playoff Push:
Vancouver:
-They have won 2 straight games, while the Kamloops Blazers have dropped 2 in a row, meaning that they took over the #3 seed in the B.C. Division and now lead them by 3 points, with one game in hand. The road woes are worrisome as 4 of their next 6 games are away from home. Tri City, who is holding the last wild card spot is 2 points ahead of Vancouver and 5 ahead of Kamloops.
Portland:
-This weekend is huge for the U.S. Division race to the playoffs. Everett has the lead by 6 points currently over Portland and hosts Tri City tonight before traveling down I-5 to take on Seattle Saturday night. They also host the Lethbridge Hurricanes on Sunday. The Hawks play Vancouver tonight and then host the Lethbridge tomorrow night. Sitting in 3rd place (5 pts behind Portland) is Seattle and they are the first to host the Central Division Canes, before their pivotal match up vs. Everett. I don't think that Lethbridge foresaw as their season started to go sideways that they would play such an important role in the U.S. Division Title race.
By the end of the weekend, Portland and Seattle will both have a game in hand on the Silvertips.
Injuries:
Vancouver:
-#14, F, Matt Bellerive, illness, week to week. #15, D, Shaun Dosanjh, upper body, day to day.
Portland:
-#14, D, Nick Heid, Upper Body, Indefinite. #22, F, Alex Schoenborn, upper body, week to week.
Players to Watch:
Vancouver:
-#17-F-Tyler Benson:
He may've lost to Spokane's Keanu Yamamoto as the best 16 year old in the "Best of the West" poll, but that doesn't mean he hasn't been as advertised in his rookie campaign. His set up abilities are already elite and should be scary good in the next few years as he develops. He has 13 goals and 26 assists for 39 points, which is 4th on the team. His recent pairing on their top line with Alec Baer and Carter Popoff has been solid and was a key reason that Mason Geertsen scored the OT winner against Moose Jaw in their last game. Benson has 6 points in the 3 games so far vs. Portland and seems to bring his best against the Hawks.
-#20-D-Arvin Atwal:
Not often do I put a player to watch on this list who might not even play, but because of what has happened with him lately, I thought it worthy of notation. Atwal last played in Seattle on February 7th and has been healthy scratched in the 4 games since. No reason has been handed down but noteworthy is the fact that Atwal has been forced to sit for disciplinary reasons in the past. He is 19 years old and going into the season was going to be counted on to be a leader. Needless to say, this does not appear to have taken place. He has 6 goals and 19 assists this season for 25 points. He must really have done something to irritate Head Coach Claude Noel, for Noel to role out 16 year old Ryely McKinstry and 17 year old Brennan Menell in his place during important games toward the end of the season. It is unknown if he will make his return back to the lineup tonight.
-#44-D-Mason Geertsen:
3 points, including the OT winner in his last game vs. Moose Jaw and has 2 or more points in 10 games this season. He does not have any points against Portland so far this year, but it is safe to say that his playing style will certainly be on display. That fine line he walks between irritating the other team's top players and keeping hem off their game, while making sure he does not put his team a man down in pivotal situations is something to keep an eye on tonight.
Add caption
Portland:
-#9-F-Chase De Leo:
Always seems to get the best out of his linemates, regardless who they pair him with. He is currently paired with Evan Weinger and Keegan Iverson and they have played much better since they started playing with him. De Leo has 4 points in the 3 games against the Giants, which is comparable to the rate that he's scored at all season. Recently, he has 16 points in his last 11 games and is the key player that drives the Hawks offensively outside of their top line.
-#31-G-Adin Hill:
Hill is 1-1 vs Vancouver this season but made 43 and 44 saves in those 2 games. More recently, the Hawks have only allowed 19 and 25 shots in their last 2 games, both wins for Hill. His GAA and Save % this month is off his season average, but a couple great games, will bring him back to where he was. He can start that tonight.
-#44-D-Keoni Texeira:
Inconsistency has been the case for Texeira this season, but he has played decently against the Giants. He has an assist in 2 of the 3 games the two teams have played. He's pushed the puck more in his last couple games and his pairing with Blake Heinrich is leaned on when Portland needs a goal late in the game. Development of a solid point shot, would really take his game to the next level and ensure that he will be drafted in this year's NHL draft.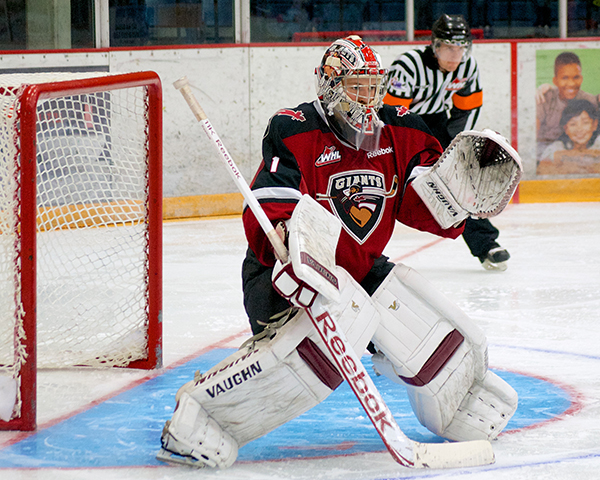 Further Points:
-Not sure whether Payton Lee gets another start tonight, as he has made 2 straight starts since returning from injury.
-Noel seems to like making points with his team, as he has also, recently healthy scratched forward Ty Ronning.
-These next few games have to be taken advantage of as they are against lower seeded teams and/or non playoff teams. After that they have several difficult games against Calgary and Seattle.