With the first overall pick in the WHL Bantam draft the Vancouver Giants shocked absolutely no one when they selected Tyler Benson from Edmonton. Benson had an amazing year, in fact breaking Ty Rattie's AMBHL scoring record with 57 goals and 146 overall points in only 33 games.
The Seattle Thunderbirds also made news when they finally signed last years first overall pick: Forward Matthew Barzal.
2012 1st Overall Pick Matthew Barzal
Portland could not pick until the 6th round, due to benefit violations, so with their first pick: the 121st overall they took Defenseman Carter Czaikowski from Calgary of the AMBHL. They also took Center Kiefer Bellows from Minnesota, Center Adam Touchette from Manitoba and D-man Brendan DeJong out of the Vancouver Island Bantam League in the 7th round. Bellows is the son of former NHLer and long time Minnesota North Star Brian Bellows. In the 8th round Portland took: Forward Garret Wait from Minnesota and Center Skyler McKenzie out of Alberta. In the last two rounds the Hawks took: Goalie Jake Oettinger from Minnesota and D-man Tristen Charles from Saskatchewan
Portland once again went all over the map selecting prospects, including four players out of Minnesota, showing that they are going to keep piping in players from the United States. Not having any picks in the first round stings for the Hawks, but hopefully they found some diamonds in the rough.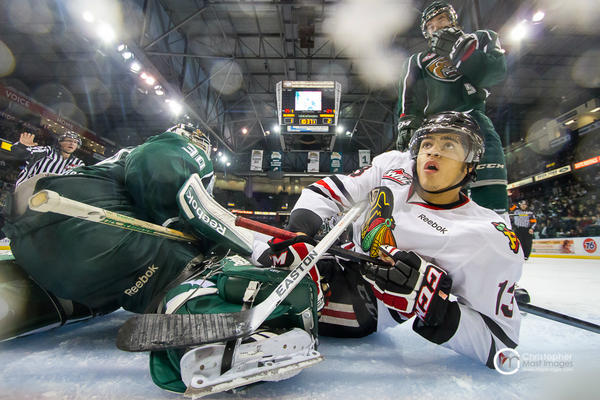 16 year old Keegan Iverson was also selected out of MN
The attention of the WHL world is centered on Portland at 6pm this evening, after it was determined that the Portland media will get their chance to ask questions of WHL Commissioner Ron Robison. Do not be surprised if he refuses to answer questions regarding the sanctions imposed on the Winterhawks.
News and Links:
-Brandon traded Goalie Corbin Boes,who will be a 20 year old next year, to Lethbridge for their first round pick.
-Spokane traded leading scorer Todd Fiddler, who was benched for Game 4 against the Hawks to Moose Jaw for a 3rd round pick in the 2014 draft. Fiddler will be 20 next year.
-Kamloops D-man Tyler Hansen made it official when he announced he will be forgoing his 20 year old season to go on his Mormon Mission next year.
-And, oh yeah there's kind of a big game tonight. Paul Buker had a couple great pieces
here
and
here
.
-The Columbian will continue to be the place to go to get the details on the career of Camas' Trevor Cheek.
He did not skate on Thursday so it looks like he will miss at least game
1.
-Game One Starts at 7pm in the raucous Rose Garden.