On Wednesday morning, Derrick Pouliot was rewarded for his amazing 2013-14 season by being awarded the Bill Hunter trophy for top WHL Defenseman at the WHL Award luncheon in Calgary. Pouliot was up against fellow Team Canada World Junior teammate Josh Morrissey of the Prince Albert Raiders.
Pouliot joins a long line of prestigious winners, most of whom went on to have great, and in some cases hall of fame NHL careers. These include: Wendel Clark in 1985 (yeah he played Defense in Juniors), Darryl Sydor in 1991 (how Scott Niedermeyer didn't win the following year I'll never know. He was one of the most gifted WHL players I've ever seen), Dan Hamhuis in 2002 and Dion Phaneuf in 2004 and 05 to name just a few.
Nylund
When researching this, I was surprised that Gary Nylund was the last to Winterhawk to win it outright back in 1982. There should really be an asterisk next to that though as Glen Wesley won Western Conference Defenseman of the year in 1986 and 87, when it was awarded to each Conference's best blue-liner, instead of the WHL's best.
This is still surprising though, considering the great Defensemen that have come through the Rose City since 1987: Andrew Ference, Braydon Coburn, Cale Hulse, Nolan Pratt and Brandon Smith were all dominant enough during some of those seasons to warrant mention. The fact that none of these great Winterhawks won this award and Pouliot now has, speaks to how great he truly has been and especially, what he has meant to this year's team.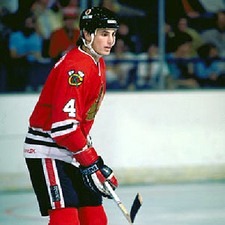 Brown
The list of winners is still an impressive one for the Winterhawks:
Keith Brown 1979- Brown would go on to a long 16 year career in the NHL, most of them with the Chicago Blackhawks as a steady, shut down D-man.
Dave Babych 1980- The only one on this list who can beat Brown's longevity, as he had a 19 year NHL career, that may've been even longer, if the Flyers medical staff hadn't reportedly mis-diagnosed his fractured foot as a bone bruise and okay-ed him to play in the playoffs in 1999. This is something he sued them for and won back in 2002. Babych also had a minor role in the movie: Slap Shot 2.

Babych

Jim Benning 1981- 3rd straight Hawk to win the award; Benning notched 111 assists in one season, all but shooing him in for the award. Many feel that his NHL career could have been greater had the Toronto Maple Leafs not rushed him up the system and played him as an 18 year old, Benning's career ended after 9 seasons as a pro, though he worked his way up the scouting ranks and was an Assistant General Manager on the Boston Bruins team that won a Stanley Cup in 2011. He is apparently being looked at as the front runner for the Vancouver Canucks G.M. job as well. It would be kind of ironic that he would be in control of young players who if not properly managed, could end up with a disappointing playing career like his.

Benning

Gary Nylund 1982- 4th Straight Hawk to win in a run that has yet to be topped in the 48 year history of the award. Nylund is most known now for being the first player to leave his team via free agency, back in 1986. He followed up an 11 year NHL career with becoming a firefighter in B.C. He was awarded the Medal of Bravery in 2001 after helping save two other firefighters during a chemical fire.
Pouliot definitely has the potential to eclipse all of these fantastic players. He spent a lot of time at the Pittsburgh Penguins training camp prior to the start of this season and was sent back down as a 19 year old after losing out in a battle with Olli Maatta. That's not looking like a bad thing anymore with Maatta having a great rookie season and Pouliot improving as for the first time in his career he is the go to D-man. He still has an opportunity to get something none of the others actually accomplished at the WHL level and that's win a Memorial Cup. If the Hawks do go all the way this year, his role on this team will make him well known on the same level that Nathan MacKinnon was last season. Pittsburgh will most certainly find a spot for him in their lineup next year that's for sure.