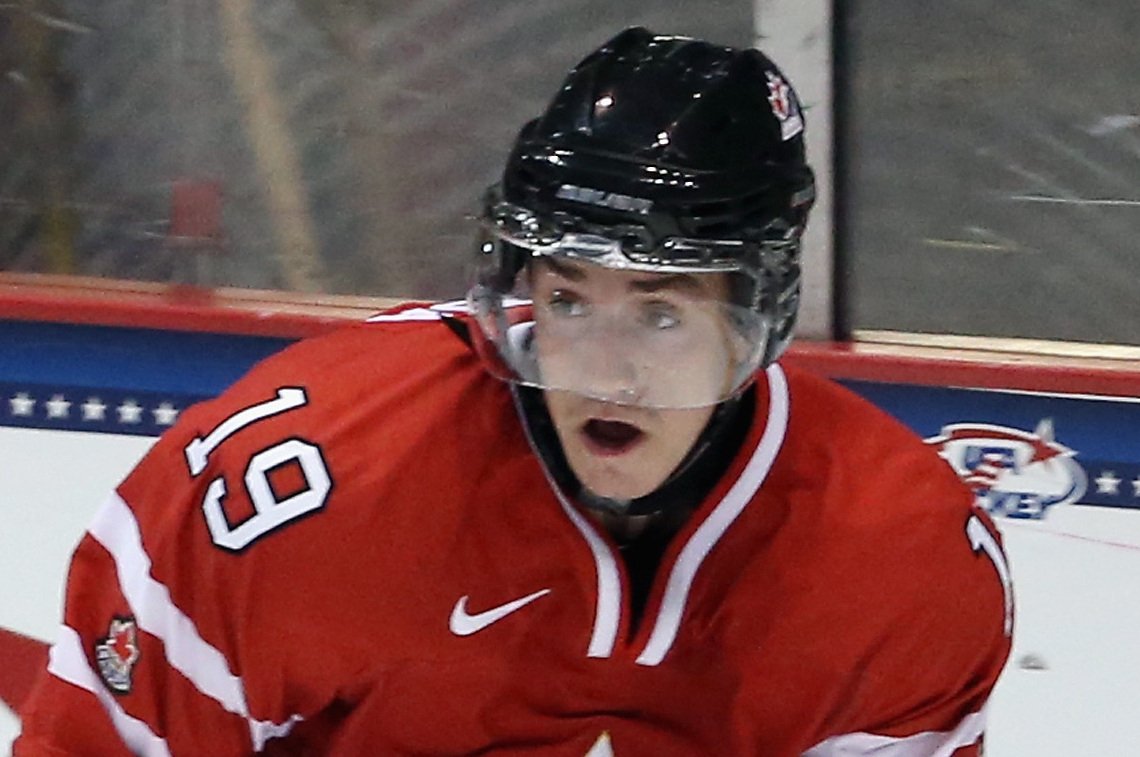 Petan Returns From Subway Super Series:
-Nic Petan returned after playing for Team WHL against Team Russia in Saskatoon (Monday) and Brandon (Tuesday) in the 12th annual Super Series.
-Petan was held scoreless in the 2 games. He was +1 in the first game; a 3-2 shootout loss to Russia and a -1 in the 2nd game; a 3-2 regulation loss to the Russians. Petan was the 3rd shooter in the circus on Monday, but could not find a way to beat Russian goalie Dennis Kostin.
-Everett Silvertips forwards Ivan Nikolishin and Nikita Scherbak, who the Hawks play Friday and Sunday this weekend played against Team WHL. Nikolishin played only in Monday's game and Scherbak played in both games. Scherbak beat Tri City American Eric Comrie in the shootout, but was held off the score sheet other then that.

Laurencelle and Lotz

Everett Finally Getting Hit by Injury Bug:
-The Silvertips have gotten off to a torrid start this season, going 12-2-2-1 so far for 27 points, 1st in the U.S. Division (by 3 points) and 2nd in the Western Conference (10 pts back of Kelowna).
-Weirdly enough their only 2 regulation losses are to Spokane at home (5-4 on 10/22 and 6-4 on 11/8).
-They have done this with the aid of not facing many injuries. Besides a knee ligament injury to Dawson Leedahl on 10/18 that has him out indefinitely, none of their players have missed any significant time.
-This week's injury report, though had 6 new names listed for the Tips:
D- Noah Juulsen: lower body (day to day)
C- Remi Laurencelle: lower body (day to day)
G-Austin Lotz: upper body (day to day)
LW-Nik Malenica: upper body (week to week)
D- Tristen Pfeifer: lower body (day to day)
RW- Gunnar Wegleitner: illness (day to day)
-This is the worst timing if your Everett as it faces it's very first 3 games in one weekend of the season with games at home Friday (Portland) and Saturday (Kamloops) and Sunday in Portland.
-According to Everett Silvertips blogger Nick Patterson Juulsen, Pfeifer, Lotz and Wegleitner practiced this week and are hoping to be good to go for this weekend. Laurencelle was hurt in a game against Red Deer on 11/5 and was not included amongst those that practiced this week. Malenica, a 16 year old also looks to be out for some time.
-Everett had already been dressing two D-men (Carter Cochrane and Jordan Wharrie) as forwards on their 4th line, so most likely will have to dress one player short with Malenica out.
Norman
Norman Chooses College Route:
-Portland's 5th round 2011 Bantam Pick (108th overall) LW Ryan Norman signed with the University of Minnesota today. Norman is an 18 year old that currently plays for Shattuck St. Mary's and hails from Maplewood, Minnesota.
-Looking back at the 2011 WHL Bantam Draft is not pretty for the Winterhawks, if you take it at the surface level.
Traded first round pick to Vancouver for Craig Cunningham.
2nd round (34th): Zach Paterson- Has played 5 total games for Portland and seems on the outs with the coaching staff.
2nd round (42nd): Tyler Sandhu-Traded to Everett as part of the Seth Jones deal. He now plays for Red Deer and has yet to improve on a solid 16 year old campaign.
3rd round (64th): Dominic Turgeon- 53 points in 139 WHL games so far and an integral part of this year's team.
4th round (86th): Mitch Skapski- Traded to Everett as part of the Seth Jones deal. Has since been traded to Victoria and has never really broken out of a 4th line role.
5th round (92nd): Michael Fortin- Has not signed with Portland and is no longer listed as a prospect on the team's website. He has played in 18 games in the MJHL, putting up 3 pts.

Collins

5th round (108th): Ryan Norman.
7th round (152nd): Josh Blanchard- Has not signed with Portland but did play some in the 2011 Neely Cup. He has played the last 3 seasons in the BCHL, putting up 13 points. He is no longer listed as a prospect on the team's website.
8th round (174th): Ryan Collins- Signed with the University of Minnesota. Has since been drafted by Columbus in the 2014 draft (47th overall).
9th round (196th): Layne Viveiros- Has been put in a top 4 D-man role with Portland this season and is the power play quarterback. He has many detractors in the Rose City, but has improved a lot this season, capitalizing on his increased role.
10th round (218th): Rhett Wilcox- Has not signed with Portland and is no longer listed as a prospect on the team's website.
-Having only 2 players from a Bantam Draft play any significant time for you is not good for any team. If you dig deeper though and factor in acquiring Cunningham and Jones, it does not look as bad. Especially considering Cunningham played a major role in the 2011/12 WHL Final run and Jones did as well for the 2012/13 Memorial Cup Final run. What has saved this particular age group for Portland is the signings of undrafted players like Keegan Iverson, Paul Bittner and Adin Hill. If you factor these 3 players in as well the picture isn't as bleak for the 1996 age group.
5 WHL Players Score First Goals:
-In somewhat of an oddity last night when there were only 3 WHL games; 5 different players scored their first career goals:
Regina D-man James Hilsendager in his 18th career game; a 8-3 win in Prince Albert.
Moose Jaw LW Jiri Smejkal in his 20th career WHL game; a 6-2 win over Seattle.
Moose Jaw D-man Dustin Perillat in his 3rd career WHL game.
Vancouver LW Johnny Wesley in his 1st career WHL game; a 6-2 win over Tri City.
Vancouver D-man Brennan Menell in his 8th career WHL game.