The National Junior Evaluation Camp concluded over the weekend and I finally found the time to share my thoughts on the WHL and Portland Winterhawks' players that were there.
Caleb Jones (USA):
-Jones was solid for the U.S. throughout the camp. He seems to have made some pretty big strides in the off-season in his overall defensive positioning and strength. He did not get caught out of position very often and sometimes was able to adjust and cover for his defensive partner. Of all of the d-men in attendance for the U.S., Jones was perhaps the most consistent in both ends. After making it past the cuts last summer, only to not receive an invite to the U.S.'s final camp last December, Jones looks to finally be a lock for the team that will be going to Toronto and Montreal for the U-20 WJC's this year. I especially liked his pairing with Boston University d-man Charlie McAvoy. The first-round pick of the Boston Bruins and Jones seemed to have good chemistry. They did play for the USNTDP at the same time, so are probably pretty familiar with how each other plays. Look for this to be a top-four pairing for the U.S. this winter in Canada.
Henri Jokiharju (Finland):
-I am really excited to see Henri put on a Portland sweater later this month (okay-a practice jersey for the Neely Cup first). His strengths and Mike Johnston's system appear to be a perfect fit. He skates really well and often uses his speed to recover when he is out of position, which happened fairly often at the NJEC. His positioning will need work as he adjusts to the North-American ice surface, but I'm confident he will pick it up pretty quickly. The fact that he logged serious minutes for the U-20 team at this camp, while being a '99 birth-year guy is very impressive. The camp was stocked with first-round NHL-draft picks who were one and two years older than him and he did not look out of place at all. In fact, as the camp went along, he started to look more confident and comfortable, taking more offensive chances and throwing his slight body around more. He also was able to get this shot through from the point with more consistency as the camp went on. His slap shot is not very accurate, but his placement on his wrist shot from the point is pinpoint accurate. Often great rebound chances were created by his deft shot. A possible pairing with Jones on the first-unit power play could very well be one of the better ones in the WHL, once he gets used to playing in the WHL. I think his prospects of being a top NHL draft pick next summer were definitely helped by his camp and the fact that a lot of NHL scouts, general managers and coaches were in Plymouth taking it in.
Kieffer Bellows (USA):
-Bellows is a great sniper who fairly soon could be part of a nice duo with Mathew Barzal for the N.Y. Islanders. I'm fairly confident that he won't stay long with Boston University, but jumping up to the Isles' is far more likely than playing in the WHL with Portland. He will be a big "what might've been" for Portland as what impact Mike Johnston had would have had on recruiting him to Portland can never really be known outside of the Bellows household.
Jake Oettinger (USA):
-Another Portland prospect that is headed to Boston University this fall. He is a late birth date, so he is not eligible to be drafted until the 2017 NHL draft. I really liked what I saw out of the big goalie over the duration of the camp. He goes down pretty quickly for a guy who is 6'4" and covers his angles pretty well. I think he will make the final squad for Team USA as Tyler Parsons' backup. That way he will gain some experience and have a good shot at being the starter at the 2018 WJCs.
Kailer Yamamoto (USA):
-The Spokane Chiefs' forward started out the NJEC with a couple of incredible games. This got him a spot playing on the U.S.'s top line with Bellows and Clayton Keller. In the first period of his first game with them, though. he ran a Swedish d-man and gained a 10-minute game misconduct. I think I counted only a few shifts that he skated for the rest of the game. After that, he was moved back to fourth-line minutes and likely moved himself out of contention for a spot on the roster this winter. I think if he starts tearing up the WHL at the start of the season, he could get another chance at the camp in December and maybe earn a spot as the extra, energy-type forward. This is the spot that Chase De Leo and Scott Eansor had for the U.S,. over the last two WJCs, though they were both centers, while Kailer is a winger.
Valimaki
Juuso Valimaki (Finland):
-The Tri-City Americans' d-man had a horrendous start to the camp but got much better over the last three games. Over the first two games, he was constantly out of position and made a lot of mistakes in his own zone. Then, he looked to have calmed down quite a bit and made simpler and smarter plays in his own zone, leading to fewer turnovers. He took a hit in his own zone to flip the puck out, which helped set up the equalizing goal for Finland in their win over Canada and scored a goal off a wrist shot from the point in their OT loss to Sweden. Valimaki is a play-maker, who should get a lot of first-round level interest from NHL teams in next June's draft and his last three games will help make up for the first two and keep him in contention to be drafted there. The sheer amount of scouts coming out to Eastern Washington to watch Yamamoto and T.C.'s Michael Rasmussen, should give him a lot more opportunities to impress particular scouts. He could also be paired consistently with N.Y. Islanders' signed d-man Parker Wotherspoon, which should allow him to jump up and make eye-catching offensive plays.
Carter Hart (Canada):
-He had the worst camp of any U.S. Division player in Plymouth. He gave up an early, weak goal and never seemed to recover. Overall, he played most of one game (a 5-1 loss to Sweden) and gave up four goals on only 20 shots. I don't think this damaged his stock so much that he will be out of the running for Canada come December, but it certainly didn't cement his standing as the starter. Overall, as reigning CHL Goalie of the Year, he was the favorite coming into camp, to be the starter. Sweden beat him twice in tight up over his left shoulder and so was looking to take advantage of a seeming gap in his coverage. I have some concerns about how mentally-tough Hart is as over the past two seasons, he had a fair share of really bad games. I think he got pulled a total of six times against Portland over his two WHL seasons, so there's a chance that I have a bad impression of him. However, there is still some signs that sometimes he can let a poor game, turn into an awful one, by compiling more than one bad goal.
Evan Sarthou (USA):
-It probably isn't a great sign that the Tri-City goalie did not see any ice after the two teams were put together. The three other goalies all saw some ice-time, while he was relegated to backup duty.
Noah Juulsen (Canada):
-I was really surprised to see him left off of the Canadian team last year, but after watching him play a few games at the NJEC, I'm starting to see why he's not necessarily a guy Hockey Canada loves. Juulsen was out of position quite a few times and often struggled in zone exits under heavy pressure. His powerful slap shot was never really uncorked and he never really looked comfortable out there. I was far more impressed with right-handed Kelowna Rockets' d-man Cal Foote in all of these aspects of the game. It could be that Juulsen earns his way onto the team, by having a great WHL season, but right now I would probably leave him off the team.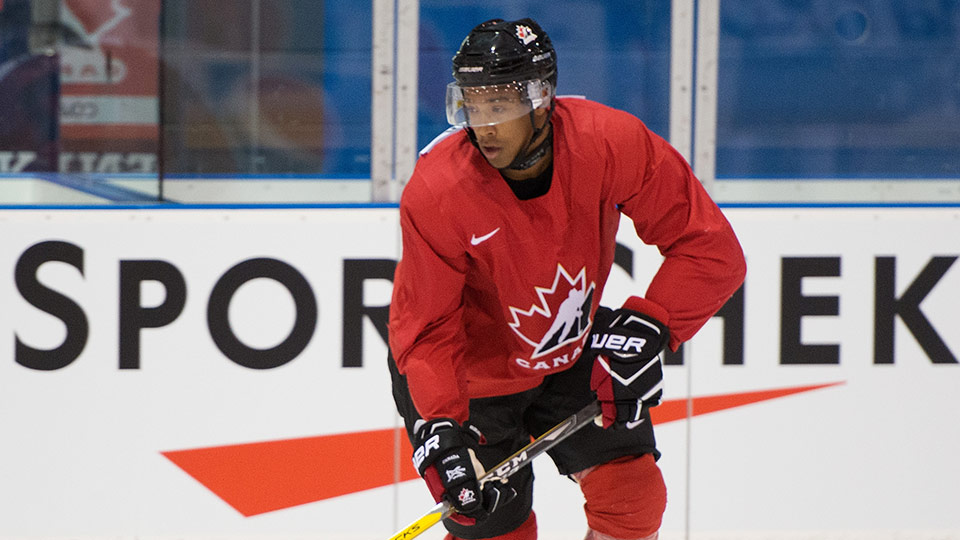 Kolesar
Keegan Kolesar (Canada):
-While Juulsen moved down the Canadian depth chart for me, Kolesar moved up it. His line with Tampa Bay prospects Anthony Cirelli and Mathieu Joseph was one of Canada's best and has the size to be a strong checking line that still has the pop to provide some scoring. Kolesar is one of the best net-front presences in the WHL, because of his size and great hands and he was great at the camp when put in this role as well. If Mathew Barzal returns to play for Canada, he also provides Hockey Canada with a guy who has chemistry with one of their best centers from their time together with Seattle. Overall, I think his camp earned him a spot on the U-20 team. He doesn't have much international experience, but Hockey Canada seems to not take this into consideration as much as USA Hockey does.