Spokane (16-7-0-1, 33 points, 4th in the Western Conference and 3rd in the U.S. Division) travels to Veterans Memorial Coliseum to take on Portland (17-5-1-1, 36 points, 3rd in the Western Conference and 2nd in the U.S. Division) in a pivotal U.S. Division match up tonight
.
After a disappointing loss to Everett last Friday that cost the Hawks first place in both the West and the U.S., Portland hopes that a sweep this weekend over Spokane and Seattle will put them back on top.
Season Series:
This is the 4th of 8 meetings between the two rivals and so far Portland has won all 3 times. One more victory by the Winterhawks, would clinch at least a tie in the season series.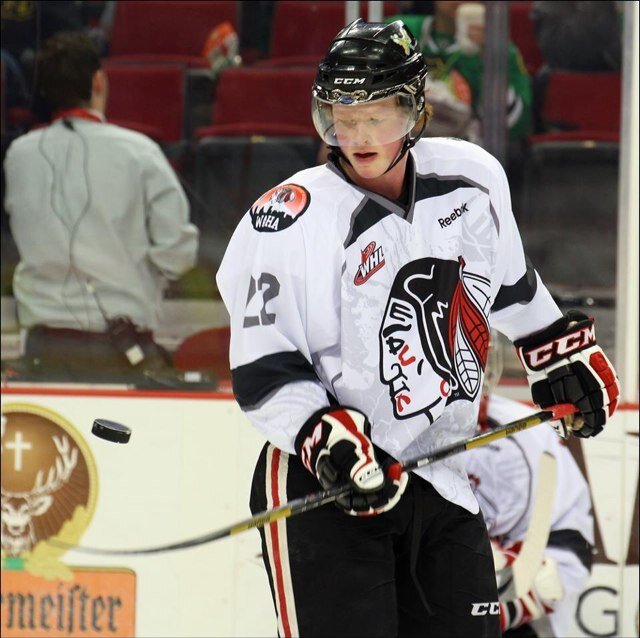 Schoenborn
-10/2: Spokane 4 @ Portland 6:
After the Chiefs took off on a hot start in the season, Portland, despite their early struggles, ousted the Chiefs by jumping out to a 4-1 and 5-2 leads before hanging on for a 6-4 win. They were led by 2 goals and an assist by Alex Schoenborn and 2 goals and 2 assists by Nic Petan. Mitch Holmberg had 3 assists in the game.
-10/26: Portland 4 @ Spokane 3:
On the tail end of a 5 game road swing that took them to Alberta and back, Portland again jumped out to a lead (3-1 in the 2nd), before allowing the Chiefs to surge back and tie the game later in the same period. Taylor Leier was then fed a fantastic pass by Brendan Leipsic on the power play and he roofed it with his backhand, scoring the eventual game winner. The Hawk's Defense came up big and did not allow a goal despite 15 3rd period shots from Spokane.
-11/2: Portland 3 @ Spokane 1:
The Hawks won, what would be their last of their 11 game win streak (stopped 4 days later vs. Tri City). A great Defensive effort led the way, as Portland's Defense came their closest this season to a shut-out for Goalie Brendan Burke, only allowing a goal with 2:44 left in the game. Nic Petan assisted on all 3 goals for the Hawks, one of which (scored by Schoenborn) was one of Portland's ugliest of the year.
Burke
Season Series Points Leaders:
Spokane: Forward Mitch Holmberg (0 goals, 5 assists), Defenseman Jason Fram (2 goals, 1 assist), Forward Connor Chartier (1 goal, 1 assist) and Defenseman Cole Wedman (1 goal, 1 assist).
Portland: Nic Petan (2 goals, 7 assists), Alex Schoenborn (3 goals, 2 assists), Oliver Bjorkstrand (4 goals, 1 assist) and Brendan Leipsic (1 goal, 2 assists- played in only 2 of the games).
Goaltending:
Spokane: Eric Williams: 0-2, 3.50 GAA, 0.875 Save %; Garrett Hughson: 0-1, 5.00 GAA, 0.852 Save %.
Williams
Portland: Brendan Burke: 3-0, 2.66 GAA, 0.918 Save %.
Recent Games:
Portland has won 14 of their last 17 games and is coming off of a blowout win over Kamloops their last time out. Their lines finally seem to be clicking, once Paul Bittner has been (somewhat) firmly placed on the top line with Leipsic and Petan. They have combined for 19 points over the last 3 games. Hopefully the top power play (3/3 last game vs. Kamloops) can continue clicking as the unit of Pouliot, Petan, Leier, Bjorkstrand and Leipsic has plenty of talent to go around and should be better than they have been so far this season.
Spokane, since starting out on a tear, has fallen back, going 5-5 over their last 10 games and falling all the way to 3rd in the U.S. Division. Since the last time they faced each other, Spokane went on their first of two Alberta swings, going 2-2 on the 4 game road trip. They then came back home and lost in a shoot out with Regina and won over Vancouver in Over Time (5-4) on Wednesday, with the game winner being potted by Mike Aviani.
Holmberg
Tonight's Game:
The real reason to be excited about this match up is because it involves 3 of the top 4 scorers in the WHL. Mitch Holmberg has led the way almost the entire season so far with 57 points, while Nic Petan (48 points) has been hot on his heels and Oliver Bjorkstrand is falling behind in the race lately (42, two behind Everett's Joshua Winquist) Mike Aviani has been line mates with Holmberg all season and is 6th overall with 37 points. Taylor Leier also is in the top 12 in scoring with 31 points. In one of the more interesting statistics in the WHL, Spokane Defenseman Reid Gow (Team Captain) is 17th overall with 30 points, but has yet to score a single goal.
One of the big similarities between the two teams is that they have two explosive Forwards whom they have been struggling to find someone to fit with all season. Portland has tried Schoenborn, Presten Kopeck and Paul Bittner with Leipsic and Petan, while Spokane has tried rookie Keanu Yamamoto (7 points) and more recently Adam Helewka (17 pts) with Holmberg and Aviani. Finding a great fit on their top line could really make the difference for the two teams this season. The big difference between the two squads though is that the Hawks have way more "secondary" scoring with a second line of Leier-Bjorkstrand-De Leo, while Spokane's second line has not been as consistent.
Jason Fram has been a bit of a find for Spokane this season as he has given them another good shut down D-man to pair with Reid Gow. In a similar way,the Hawks have been impressed with the continued improvement of Anton Cederholm, whom they have paired with Derrick Pouliot.
Both teams are playing again the next night as Portland heads up I-5 to take on the Thunderbirds, while Spokane goes home to take on their arch-rival Tri City Americans. Because of this, it is likely that the Chiefs will start back up Garrett Hughson in one of the games (most likely tonight).
Portland continues to battle injuries up front as Presten Kopeck missed the Kamloops game with an abdominal injury, while Shane McColgan and Adam Rossignol are battling injuries as well.
The game goes 7pm at the Coliseum tonight.