The Portland Winterhawks have reeled off 9 wins in a row, including all 5 of their games on a recent road swing. Because of some personal obligations, I have not posted anything since their win over Tri City on 10/16 (2nd game of the streak). Here are some things I've noticed over the past 7 games:
Observations From the Last 7 Games:
Turgeon
-Portland kicked off their 7 games in 13 days at home with a 5-4 win over Swift Current. This was one of the most entertaining WHL games I've seen in some time as the game winner was scored by Dominic Turgeon in only his second game back. Turgeon scored the goal on a nice rush up the ice and showed some nifty skills in beating Swift Current Goalie Eetu Laurikainen.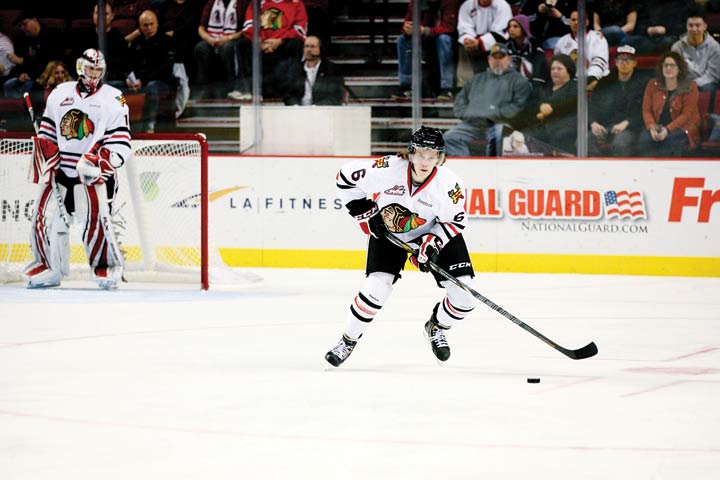 MacPherson
-Next up for the Hawks was their 3rd date with the Tri City Americans and the Hawks took them behind the woodshed, potting an 8-1 victory and taking their streak to 4 games. Paul Bittner returned from his hand injury in this one and looked tentative in the little ice time he got, skating on the 4th line with Adam Rossignol and Ethan Price. The Hawks were led by 2 goals from Chase De Leo and a goal and two assists each from Nic Petan and Taylor Leier. Shaun MacPherson played in this game but seemed to be relegated to 3rd pairing minutes. The real difference between Portland and Tri City seems to be team speed and Tri City's Defense struggled with the Hawk's Forwards all night.
Yakubowski
-The Hawks then took their win streak to Alberta for the first of two trips (the next trip will be a brutal 3 games in 3 nights vs. Edmonton, Red Deer and Calgary, December 6th-8th).Lethbridge, at the time, was dealing with two of the top three scorers from last year's team: Jaimen Yakubowski and Sam Mckechnie demanding trades (they would eventually get traded to Seattle for Riley Sheen, Carter Folk and a 3rd round 2015 pick). Lethbridge looked way over-matched early as the Hawks out-shot the Canes 22-8 in the first period. But behind an amazing game from over-age Corbin Boes, the Canes only gave up 3 goals in that first period, despite the Hawks running roughshod over them. Nic Petan then made the mistake of inspiring a lifeless Cane's team, when he took a cheap shot on a Lethbridge player after the first period inspiring the Canes to come back and make it a game, before losing 3-2. The Hawks definitely let up after the first period, but still played great defense at the end for the win. Bittner played much more in his 2nd game back for the Hawks,
-The Hawks then went 2 hours NE in Alberta, traveling to the Eastern Conference leading(at the time) Medicine Hat Tigers. Portland was the exact opposite of the previous night, as they slept walked through the first 10 minutes of the game, relying on a stellar Brendan Burke to stand on his head early. Then Nic Petan scored a nifty goal and the Hawks were off to what would become a 4-1 2nd period lead. They would then let the other team back in for the second night in a row and the Tigers, behind goals set up and scored by Blake Penner, got to within 1 at 4-3. There were several nervous moments late in the 3rd where it looked like the Tigers would tie it, but the Hawks Defense, led by the steadily improving Anton Cederholm and Layne Viveiros, cleared away any troubling rebounds in front. Leipsic then netted an empty netter and the score would end at 5-3. Over-age acquisition Shane McColgan played his first game for the Hawks but was noticeably frustrated with his own play.
Bozon
-Kootenay was up next for the Hawks and Viveiros, who has my vote for most improved so far this year, started the scoring by creating a nifty 4 on 2 rush that ended with a Petan goal. The Hawks got 2 more goals from Chase De Leo and 3 assists from Oliver Bjorkstrand, pacing them to a 6-3 win. Keegan Iverson scored a goal in his 4th straight game in closing the scoring. The Hawks faced Tim Bozon in a different swaeter as he and Defenseman Landon Cross were traded from Kamloops to Kootenay for Colin Shirley, Matt Thomas and 1st, 3rd and 5th round picks. This was Bozon's first game playing with possible #1 overall 2014 NHL Draft pick Sam Reinhart and it could take a little while for them to create a little chemistry. Jarrod Schammerhorn got his 2nd start of the year in this one and notched his first WHL victory, stopping 27 of 30 shots. Shane McColgan was scratched in this game following his one game return to the lineup.
Leier
-The Hawks closed out their 5 game road trip with a thrilling 4-3 victory over Spokane. Portland took a 3-1 lead before, again, letting the other team back in. Spokane scored two power play goals, knotting the score at 3. Then Captain Taylor Leier scored a nifty backhand powerplay goal and the Hawk's Defense and Brendan Burke played great late, giving Portland the 4-3 win. Portland's Shaun MacPherson was scratched for the 3rd straight game in this one, with no apparent injury, meaning he seems to be out of favor with the Hawk's coaching staff.
Iverson
-Lastly, the Hawks came home and dispatched a scrappy Brandon Wheat Kings squad 5-2. Portland was glad to be home and showed it out-shooting Brandon 17-6 in the first period and taking a 3-0 lead behind goals from Leier, De Leo and Petan. It could've been much worse, but Brandon's Curtis Honey (twin Brother of Seattle's Connor Honey) stopped several other great chances. Keegan Iverson led the rest of the way with a goal and an assist and the Hawks gave up 2 late goals, ending the scoring at 5-2. Portland is leading the league in goal scoring at a very comfortable margin of 82-64 right now and by the way of their 9 game winning streak is now in first in both the U.S. Division and Western Conference.
Next up for the Hawks are two key U.S. Division matches at Seattle and Spokane this weekend.