When looking at the lineups for the two Western Conference finalists this season, you can see why they ended with the best records in the WHL. Without under-selling the Edmonton Oil Kings, this certainly looks like a match-up similar to the Seattle Seahawks and San Francisco 49ers from this past seasons NFC Championship. I say this because this was the match-up we were expecting at the beginning of the season and now, even though, it's as expected it is easily the most exciting of this year's playoff.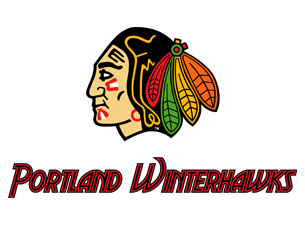 Between the two teams, of the 21 players for Portland and 19 for Kelowna that have played a playoff game this year: 16 players have been drafted in the NHL and 7 have been listed in the top 141 in the final Central Scouting North American skaters for thsi coming draft. This talent was amassed by the two teams in very different ways:
Chartier
First Round Bantam Picks:
Kelowna:
Defenseman Jesse Lees (9th) in 2010.
Center Rourke Chartier (15th) in 2011.
Center Nick Merkley (9th) in 2012.
Portland:
This is where you get a lot of the high end talent in the WHL. Portland not having their first round picks through 2017 will really hurt them in getting guys like Petan, Pouliot and Ty Rattie. But even before they lost them, Coach Mike Johnston showed a confidence in his recruiting staff by sending a first round pick to Seattle for Marcel Noebels. Jesse Lees has attempted to follow Myles Bell's shoes in not only copying him by moving from Defense to Forward in his injury absence, but by taking his spot on the line with Baillie and Kirkland. Chartier and Merkley are also solid already and could be elite players in the league in a couple years. It should also be noted that Kelowna along with Chilliwack/Victoria, Swift Current and Prince Albert are the only teams to have their first round picks from 2010, 11 and 12 to play games for them this season.
Second Round Bantam Picks:
Bowey
Right Wing Colton Heffley (39th) in 2009.
Defenseman Madison Bowey (23rd) in 2010.
Right Wing Austin Glover (37th) in 2011.
Defenseman Joe Gatenby (34th) in 2012.
Portland:
Mid-Round Bantam Picks:
Kelowna: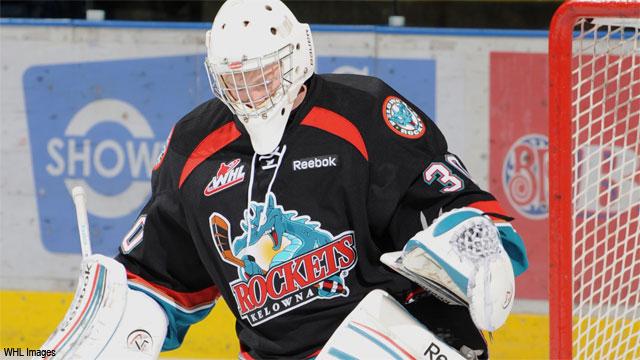 Cooke
Goalie Jordon Cooke 4th Round (79th) in 2008.
Left Wing Tyrell Goubourne 5th Round (105th) in 2009.
Center Tyson Baillie 3rd Round (53rd) in 2010.
Center Cole Linaker 6th Round (113th) in 2010.
Defenseman Riley Stadel 3rd Round (51st) in 2011.
Left Wing Justin Kirkland 5th Round (103rd) in 2011.
Portland:
Left Wing Brendan Leipsic 6th Round (112th) in 2009.
Goalie Brendan Burke 3rd Round (49th) in 2010.
Center Dominic Turgeon 3rd Round (64th) in 2011.
This is where the bulk of the talent from the top seeded team from the WHL came from. Finding gold in the range between picks 45 thru 132 can be difficult for a lot of teams. For the Rocket's sake though, they have been able to count on building a lot of their depth from this area. Cooke has played in Kelowna since he was 16 and was handed the reins from Adam Brown at the beginning of last season. Baillie notched 55 points this season, Kirkland came in just behind him with 48, Goulbourne got 37, Linaker 22 and Stadel from the rearguard position had 35. Their depth was their best strength this season and these 6 players were very important to them.
Leipsic was a steal, partially because of his size in the 6th round back in 2009 and Price could be another one in the near future, as his coming from Nebraska probably played a role in most teams staying away from him, thinking he'd go the college route.
Late Round Bantam Picks:
Kelowna:
Severson
Defenseman Damon Severson 9th Round (192nd) in 2009.
Defenseman Mitch Wheaton 10th Round (207th) in 2010.
Portland:
Defenseman Josh Hanson 8th Round (156th) in 2009.
Left Wing Adam De Champlain 10th Round (200th) in 2009.
Center Chase De Leo 9th Round (192nd) in 2010.
Kelowna hit gold with snagging Severson in the 9th round back in 2009, as he is probably their best player that is healthy for the series. He brings much the same to the table as Derrick Pouliot does, wothout being a high first round pick. Wheaton is a solid defensive defenseman with good size and he was another steal,. though not as much of one.
Portland filling out their lineup with the likes of Hanson, De Champlain and Viveiros is nice as a lot of teams would proably find bigger roles for them, especially De Champlain. De Leo, meanwhile would be a bona fide first line center on any other team. Being from california is probably the only explanation that someone as talented as De Leo was still available in the 9th round in 2010.
Import Draft Picks:
Kelowna:
Center Kris Schmidli 2nd Round (59th) in 2013.
Portland:
Bjorkstrand

Defenseman Anton Cederholm 2nd Round (60th) in 2013.
Right Wing Oliver Bjorkstrand 1st Round (29th) in 2012.
Schmidli notched 35 points for the Rockets, but down the stretch has split time as the 12th forward with Austin Glover. They will both proably have more of a role next season as 18 year olds.
Cederholm is a bit of an unknown commodity, who has not quite found the best role for himself in the WHL yet. He has moments in which he looks to really fit the up tempo style that the Hawk's require of their defensemen and then he has moments where you do not notice him the entire game. Bjorkstrand is another in a recent line of finds overseas, after Nino Niederreiter and Sven Bartschi. He has been, at moments a transcendant talent. If there is one guy in the current group of Winterhawks, that I would not be surprised to see be an elite, MVP caliber talent at the NHL level, it would be the Danish winger. His combination of ridiculous wrist shot and release, as well as his speed and catch you off guard strength are simply a wonder.
Trades:
Kelowna:
Bell
Right Wing Myles Bell (9/2011) from Regina for D-man Colton Jobke and 2nd Round and 5th Round Bantam Picks in 2012.
Left Wing Carter Rigby (9/2011) from Prince George for 3rd Round Bantam Pick in 2012.
Center Ryan Olsen (5/2012) from Saskatoon with 2nd and 5th Round Bantam Picks in 2013 for Shane McColgan and Jessey Astles.
Left Wing Marek Tvrdon (1/2014) from Vancouver for a 2nd Round Bantam Pick in 2014.
Portland:
Dumba
Defenseman Garrett Haar (7/2013) from Medicine Hat for Conditional Bantam Pick.
Defenseman Mathew Dumba (12/2013) from Red Deer for Presten Kopeck and 2nd Rounders in 2014,15 and 16.
Bell is the best player on the Rockts and a guy who had 93 points last year before falling to 77 this season. He has one of the harder slap shots in the league and has been a Winterhawks killer this season scoring 10 points in the 4 games played. He will most likely miss this round and if the Rockets lose, they will always have to wonder what might've been had their MVP played. Rigby is a good two way forward and was able to find his way out of the mediocrity he would've wallowed in if he'd stayed with P.G. Olsen is a big Center that they were able to swing when they dumped Shane McColgan and Astles. Neither of whom were abel to help Saskatoon win a Memorial Cup game. It's looking like a darn good deal now though as the Blades have nothing on their current roster to show for it. Tvrdon is a power forward that, in my opinion, does not play to the best of his abilities.
Listed Players:
Kelowna:
Portland:
Left Wing Alex Schoenborn (1/2012) out of the Omaha Junior Lancers of the NAPHL.
Right Wing Keegan Iverson (3/2012) out of Breck High School in Minneapolis, MN.
Right Wing Paul Bittner (4/2012) out of Crookston High School in Crookston, MN.
Right Wing Tyson Predinchuk (12/2013) out of the Melville Millionaires in the SJHL.
2/3rds of the Hawk's 3rd line, along with a reserve forward were signed undrafted by the Hawks and this is where they will have to make their bones in the future. Schoenborn, Iverson and Bittner will be asked to play big roles on the team in the next two seasons and they have shown themselves capable so far this season. The fact that all except Predinchuk are American, means that Jonhston and his staff have been able to convince some very talented and in Bittner's case: elite NHL prospects to pass on the college option in favor of playing in a great developmental league without leaving your country. If they can continue to do this, having only one 1st round pick and no seconds for the next season will not throw this franchise back down the deep dark hole it came from.
Kelowna has succeeded in the last 12 seasons up in the Okanogan, winning 3 WHL Championships and one Memorial Cup, by doing things the old tried and true way, while the Winterhawks appear to be driving off the proven path into something no one has done before. And this is why, if the Hawks continue to succeed, the rest of the U.S. Division, will no doubt copy him.