The 3rd seeded Victoria Royals take on the 2nd seeded Portland Winterhawks in the Western Conference Semi-Final, starting Friday night in Portland at the Memorial Coliseum. Victoria won the season series 3-1 vs. the Winterhawks (1-1-1-1), but the Winterhawks come in as the higher seed and having won 32 of their last 33 games. Prior to their 21 game win streak ending loss in Seattle on March 1st, Victoria was actually the last to beat the Winterhawks: 3-2 on January 4th.
In my opinion there has got to be 5 burning questions entering this second round and they are:

Burke
 1) Which Brendan Burke will show up? Or rather: Did Brendan Burke get all of his gaffes out of the way in Game 1 against Vancouver?
-Burke made a rather large blunder in allowing a Brett Kulak dump in shot to bank off the boards, off his skate and in, tying game 1 at 3. Since that blunder though, Burke has dazzled, making countless stops on the Giant's best snipers: Jackson Houck and Cain Franson, among others. He seems to be especially great when scrambling with the puck down at his feet. Not bad for a tall Goaltender at 6'4". One would think, once he settled down, Burke will only get better, as he makes his first run as the starting Goalie. In the last 2 and a half months he has all 5 of his shut outs for the entire 2013-14 campaign + playoffs. And this includes missing a month due to the flu bug.
Is it a coincidence that a certain #9 NHL draft picked D-man joined the team just prior to this run? Probably not, as Mathew Dumba has helped take a lot of the defensive load off of the other blue-liners, as well as, Burke.
It is doubtless that Burke will be needed much more in a series against an experienced team in the Victoria Royals, especially one that's speed and size is sure to create more chances than the very young Vancouver Giant's team was able to create. Hopefully, the recently turned 19 year old Goalie (hockey age: 18), will be up to the challenge.

Leipsic celebrating with Petan and Bittner
 2) How will Brendan Leipsic do against much bigger and better defensemen?
-Let's face it, Leipsic has dined out in the past on inexperienced defensive units, especially those that cannot use their length to poke-check and help keep his speed and stick work in check. Vancouver was that team, especially as the series wore on and they became frustrated with trying to contain Leipsic and took stupid penalties. Leipsic ended the 4 game sweep with 9 points, including 5 goals and maybe should've had at least 5 more, if not for great performances by Payton Lee.
-Victoria started 7 defensemen in all 4 games against Spokane and figures to do the same vs. the Winterhawks. 5 of those D-men are big boys. Especially (1995 born) Keegan Kanzing who is 6'5" 242 lbs. they also have Captain Jordan Fransoo ('93) who is 6'3" 202; Travis Brown ('94) is 6'2" 193 lbs; Brett Cote ('94) is 6'0" 207 lbs and Ryan Gagnon ('96) is 6'1" 190 lbs. So not only do they have 5 large bodies to throw at the skilled, yet small Leipsic, they have much more experience than the Giants D-corps was bringing to the first round match up.
-In the face of this argument is the fact that in only 4 games against the Royals, Leipsic has 4 points (2 goals and 2 assists). This is even more impressive when you think about the fact that the Royals only allowed 4 total goals in those 2 games, Leipsic being in on all 4 goals. So even though most other large defensive teams seem to create issues for the shift winger, Leipsic has performed well against them, albeit being a small sample size.
-It seems that Leipsic is on a complete tear in these playoffs as he continues to move his way up the all time point list. At this point, I doubt any defense can completely shut him down, though Victoria will surely try.

Pouliot
 3) Whose defense will provide more offense?
-This series is sure to be tight checking affair. If Portland's forwards struggle in establishing a solid cycle against the solid Victoria defense, they will rely upon their capable defensemen to jump into the play and create grade A scoring chances. Derrick Pouliot seemingly did this at will agains the Giants and Mathew Dumba has proven more then capable as well. The real boon lately for the Winterhawks defensive corps has been the offensive play of 16 year old Keoni Texeira. Texeira got his two assists in similar ways and in pivotal points in 2 different games. In game one, he used his incredible speed to create an odd man rush, setting up the Oliver Bjorkstrand goal to make the score 2-1. Then he made a similar play late in the 3rd period in a 5-3 hockey game, leading to Paul Bittner's lone goal of the series and putting away the Giants for the game and essentially the series.
-If the Winterhawks can get this type of play from their young rookie and get more of the same from Pouliot, Dumba and Garrett Haar, Victoria Goalie Patrik Polivka will have to have a truly unbelievable series for the Royals to have a shot.
Brown
-For the Royals, Travis Brown is their best hope for offense from the back end. Brown was acquired at the trade deadline and scored 15 points over his 28 games with Victoria. In 4 games in the first round vs. Spokane, he notched 4 points, including the over time winner in Game 1, setting the tone. On his game winner, he took advantage of a gap in the Chiefs defense and received a perfect feed from Brandon Magee. Chiefs Goalie Eric Williams had no chance. Brown was a 5th round pick in 2012 by the Chicago Blackhawks and you can see why he would fit well with the other Hawks. He has wheels and can create chances from the point for his team, especially on the power play. This team is far more formidable with him added then they were previously.
The other guy who will be counted on for the Royals is draft age defenseman Joe Hicketts. He is a small speedy D-men with a great shot, who battled injuries a lot of the year. He still put up 24 points in only 36 games. His speed can certainly create problems for the Winterhawks, as witnessed last year when he scored the game winner during a regular season game vs. Portland. He did not score any points in the series vs. Spokane but is always a threat. Brett Cote had 4 points vs. Spokane all assists and can also be dangerous at times.
-Pouliot and Dumba's talent cannot be matched, probably anywhere else in the CHL and should they play up to their potential in this series, it could mean the difference.
Polivka
4) If Polivka struggles, will the Royals go to Coleman Vollrath?
-Among playoff teams, the Royals seem to be one of the few that has the benefit of throwing out their choice of two top Goalies. Polivka earned the starting gig for the playoffs with a 2.21 GAA and .920 Save % in the month of March. He then proved he was the right pick with a stellar series vs. Spokane, notching an even better 1.68 GAA and .938 Save % and only allowing 2 total points (both assists) from Spokane's 20 year scoring dynamos Mitch Holmberg and Mike Aviani.
That being said, Coleman Vollrath got all 4 starts against the Winterhawks in the season series and posted an amazing 1.92 GAA and .949 Save % in back stopping them to 3 wins over the best offense in the WHL.
-There is little doubt Polivka will go in game one, but Coach Dave Lowry has the confidence in his back up, knowing he has succeeded in the past vs. the offensive juggernaut that is the Winterhawks.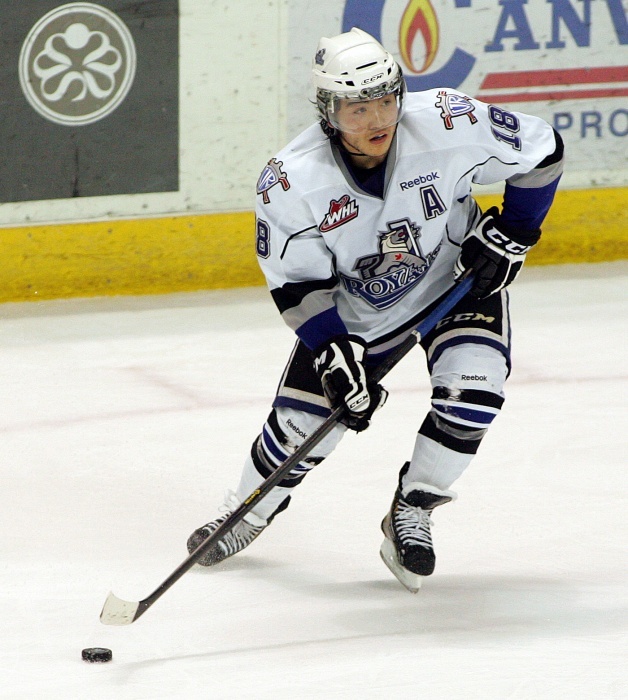 Magee
 5) Where will Victoria's scoring come from?
-Brandon Magee ('94) is by far their most talented forward, as he is shifty and can create great scoring chances for himself and his line-mates. Magee lead the way in the regular season (67 points) and so far in the post season as well (7), while his line mates Ben Walker and Axel Blmoqvist (54 and 43 in regular season, 4 and 1 in the post season) have not been as consistent. The second line of Austin Carrol ('94), Steven Hodges ('94) and Logan Nelson ('93) has carried a lot of the load as well.
-Nelson potted the over time winner in game two vs. the Chiefs and tied for the team lead with 3 goals in the series. This team, with it's top regular season scorer only notching 67 points, is sure to rely upon their defense in beating the Winterhawks. This is because not only can their top scorers not match up with the Winterhawks parade of NHL level talent, their secondary scoring will not be able to match the Hawks 3rd and 4th lines either. Not a single member of the 3rd and 4th lines for Victoria notched a goal in the 4 regular season games vs. Portland and only Tyler Soy ('97) and Logan Fisher ('95) found the net vs. Spokane.
-If the Royals can start to get some more consistent production from their 3rd and 4th lines, the Hawks may be in for a tougher series then they were prepared for.