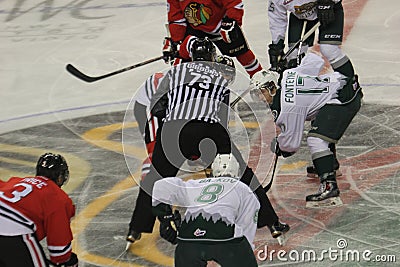 The two teams have battled 10 times this year, with a lot of the games taking place in the early part of the season, when the Winterhawks were without some of their more experienced players.
We still did get several games with both teams near their best, which allows us to take a look at the positional match ups.
Forwards:
-Everett
Stadnyk
Left Wing Carson Stadnyk has been the Hawk killer this year. He has 6 goals and 10 assists for 16 points in the teams 10 games. Included among his goals is the over-time winner on February 8th, after he hurt his arm earlier in the game. Stadnyk does a lot of things well that work vs Portland's defense. He's a big enough frame that can find loose pucks around the net and he is also adept at tipping pucks past Goalies, another thing Portland's defense has struggled with. Ivan Nikolishin has 3 goals and 10 assists vs. Portland this year for 13 points and is the kind of puck possessing game-controller that usually wears a Portland jersey (as of late at least). It's going to be important for Portland's forwards to back-check and take away the amount of room he has to operate in the high slot, because if you give him enough room, you will pay or it. As their 3-OT series clinching Game 6 showed, Everett relies hevily on Kohl Bauml and Remi Laurencelle to Center their top 3 lines in some sort of combination, with Logan Aasman centering the 4th line. Bauml, particularly, as an over-age 200 foot playing type of player, will be a player Everett will rely heavily upon.
Laurencelle has been a great find, coming over from Lethbridge last year in exchange for a 6th round pick. He has fit right into Coach Kevin Constantine's system and has played well with Nikita Scherbak and Brayden Low as of late. It was his pressure on Spokane D-man Tamas Laday, that created the scoring opportunity for Low that won the series for Everett. Laurencelle is a great fore-checker that will try to force Portland's D-men into these types of pivotal mistakes.
Nikita Scherbak is an enigma this year for me. He sometimes showcases elite level talent (as shown in the video to the right), but then will seemingly disappear for some games. He has 7 points in 8 games vs Portland and somehow notched 24 penalty minutes. It's fair to say, I think that Portland has frustrated him this season at times. Scherbak often tries to take on defenders on one one and tries to make a slick play to get around them. Portland's D-men have been great at stick checking or physically moving him off the puck. Layne Viveiros specifically, has made many excellent plays on Scherbak this season. Scherbak also does not seem to want to win boards battles, even though he has the size (200 lbs) to do so. If he starts to use his size more and wins these battles, Portland could really have a difficult time in stopping him. As of yet, though, I just haven't seen him realize all of his talent.
Low, meanwhile is another forward that has shown great improvement. He has scored now in 4 straight games in the playoffs. It's great to see the former Winterhawk start to realize his talent, even if it is for a U.S. Division rival..
Depth forwards like Patrick Bajkov, Graham Millar and Dawson Leedahl have had good moments vs Portland this year, with Millar scoring 4 goals in the first couple of games. They will need to chip in scoring wise, in order for Everett to keep up with Portland's forward depth. Leedahl missed the last three games of the Spokane series with an unknown injury. It should also be noted that Leedahl injured Portland's Blake Heinrich in the preseason with a check from behind.
-Portland
Bjorkstrand
Another team that Oliver Bjorkstrand has abused in the U.S. Division. Bjorkstrand has 9 goals and 9 assists for 18 points in just 8 games played vs Everett. Linemates Nic Petan (14 points) and Paul Bittner (10 pts) have also succeeded as of late vs the Tips. In their most recent match up (March 11th), Everett did not seem to want to line match with Portland, the same way Seattle has with the Scott Eansor line and seemed to have faith that any of their lines could handle the burden. That did not work so well for them in that game as they lost 6-1. It will be really interesting what Constantine decides to do against Portland's top line, even defensively, as Portland got to put the Petan line vs Everett's bottom pairing of D-men consistently. If Everett decides to just roll out their lines and lets Portland pick and choose, even on home ice; the top line will get plenty of looks at Everett's net.
Chase De Leo is Portland's 3rd leading scorer against the Tips (13 pts) and will likely be playing with Keegan Iverson and Alex Schoenborn. Both Schoenborn and Iverson have played better, as of late and a lot of the credit for this should be aimed at De Leo. Because he plays with guys that are not quite as elite as Petan does, he often gets over-looked. I think that if Portland goes far in these playoffs it will be because of De Leo and his line. Schoenborn has an over-time winner vs Everett thsi year and will probably try to irritate Nikolishin and Scherbak, among others and create power plays for the Hawks.
Turgeon
Dominic Turgeon has been one Portland's most consistent players in the playoffs and centers an interesting line for Portland. On one hand you have the over-age sniper (Miles Koules) and on the other you have the 17 year old physical rookie. They do not just eat up minutes, but also put the defense on it's hees, when out there. With the big break between games 2 and 3, I would not look for Portland's 4th line (Skyler McKenzie-Alex Overhardt-Mitch Walter) to play all that much more then 2-3 minutes a game.
Edge: Portland
Defensemen:
-Everett
Juulsen
A lot of this is unknown as both Noah Juulsen and Tristen Pfeifer left Game 6 vs. Spokane with injuries and did not return. Juulsen would be the biggest loss of the two as is shown by the fact that he is Everett's 3rd leading scorer vs Portland this year with 10 points in 10 games. Juulsen came out of nowhere this year to provide Everett with a D-man who is not a liability in his own end and can also jump up into the play and create scoring opportunities. It was his shot that Standyk tipped home that won the game for Everett in OT last February. He also seems to have impacted his D-partner: Ben Betker in a positive way, much the same way Blake Heinrich has done to Keoni Texeira for Portland. Betker, who did not show much offensive ability prior to this year and was still drafted by the Edmonton Oilers, looks to shoot more which has led to 35 pts for the D-man this year.

MacDonald
The other main D-pairing for the Tips is 17 year old Kevin Davis and 19 year old Cole MacDonald. Davis is progressing the way you would expect for a first round (11th overall) Bantam Draft pick. Meanwhile, his partner was a list player, who certainly looked like nothing more than a 5/6/7 D-man going into this year. Constantine and co. have apparently had their affect this year though and MacDonald has had a breakout year, scoring 36 points and not missing a game all year to injury. The two D-men have been paired together for most of the year and do not seem to get caught out of position very often.
Tristen Pfeifer (if healthy), Lukas Skrumeda and Jordan Wharrie, should also get some ice time this series. Wharrie has often been dressed as a seventh D-man, but actually skated in a 4th line forward role. Skrumeda leads this group offensively vs. Portland with 2 points in the season series.
-Portland
Anton Cederholm has proven to be a workhorse in the playoffs this year for Portland. He logged over 42 minutes in Game 6 and with Josh Hanson's availability unknown with a possible injury, I would look for this workload to continue to be heavy (probably in the 24-26 minutes a game range). His ability to always seem to make the right play recently, makes this choice easier for the Hawks. His usual partner Layne Viveiros has looked better and better as the season has gone on and even though he has been replaced as Portland's power play quarter back by Adam Henry, he is the leading scorer vs Everett (among D-men) with 9 assists in 10 games. Defensively, Viveiros has played some of his best hockey vs Everett this year.
Heinrich
Keoni Texeira and Blake Heinrich have not added much this season offensively against Everett (7 points together), but have been very consistent in their own end recently and have stayed away from some of the mistakes that Everett relies upon for a lot of their offense. Heinrich may not always show up on the stats sheet but he is easily Portland's best outlet passer and this ability allows Portland's forwards to jump into the rush and establish control in the opponent's zone.
Adam Henry's added offense from the blue line has been a huge boon for Portland. He has 4 points in only 3 games agaisnt Everett and scored 2 goals in their last game. He exhibits such patience from the point in finding an open shooting lane, not allowing opponent's forwards to block his shot and send the rush the other way. His regular partner this post-season: Josh Hanson looked ot be laborign under some injury during Game 6 and could be replaced by 16 year old Brendan De Jong. Regardless of who plays in this role, I would not look for them to play much beyond 5-6 minutes a night, as Cederholm will be rotated into a double shift role on the 3rd pairing.
Edge: Everett (Portland if Juulsen and Pfeifer miss time)
Hart
Goalies:
-Everett
Carter Hart was incredible in the first round series win over Spokane and leads the WHL with a 1.68 GAA and 0.947 Save % in the playoffs. It's really hard to believe that he is only 16 years old. A lot of people questioned Constantine's decision in going with the 16 year old over the 19 year old Austin Lotz, who's had some great playoff performances. It's hard to question him now.
Hart, however, has really struggled against the Winterhawks. He has a 2-2-1-0 record with a 4.03 GAA and 0.874 Save %. He has been pulled three different times vs. Portland this year. Even though, Hart has played so well, you cannot ignore how much Portland has kind of had their way with him this year. Goaltending is such a mental game that if Portland gets an early goal on him in Game one, his confidence could be affected and the reins could end up with Austin Lotz.
Lotz's numbers vs. Portland look a little better (3-2, 3.67 GAA and 0.890 Save%), but his health and confidence have not been great towards the end of the season. Lotz will only see ice time, if Portland has already gotten to Hart and he has not shown enough this season, for me to think that he could turn a series back in Everett's favor.
-Portland
Adin Hill is the opposite of Hart in that he excelled in the season series, but has struggled a bit in the playoffs. Hill was 3-0-1-1 with a 2.55 GAA and 0.919 Save % in the season series and has a 3.18 GAA and 0.900 Save % in the playoffs. In Game 6 of the Seattle series, he looked more like himself though and exhibited confidence in cutting off shooting lanes.

Hill
Here's to hoping that Hill has gotten over his playoff jitters and is the guy to lead Portland to it's 5th straight Western Conference Final.
Edge: Portland
-Until Hart can prove that he can stop Portland at it's best, I have to go with Hill who has played wonderfully against Everett this year.
I will go into more keys to win and present my final prediction tomorrow.