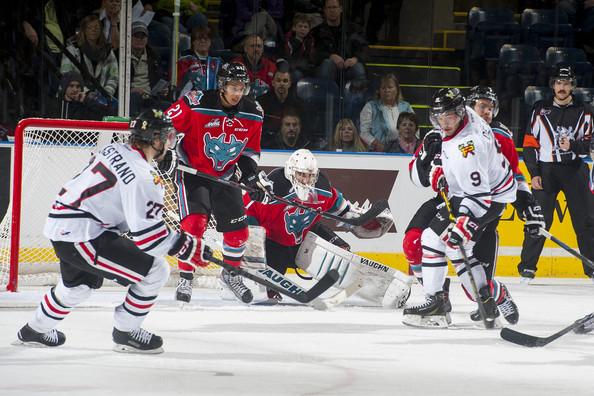 The Portland Winterhawks and the Kelowna Rockets start their Western Conference Final series tonight up in Kelowna, starting at 7:05 pm in Prospera Place. Much is being made of the fact that this is the first series in awahile that the Winterhawks are actually not favored. When looking at the two teams, the Rockets do look to be the better team on paper as they are probably the best team in the WHL from the top to the bottom of their roster.
Let's take a look at what each team will have to do in order to be victorious in what I think is going to be a very tight series.
Kelowna's Keys to Victory:
1) Shoot Early and Shoot Often.
The Rockets have outshot their opponents 120-71 in the first periods of their 9 playoff games this year. Included in that was the first game of the Victoria series, where they held the Royals to only 1 shot. Key to the Rockets is using their speed and their forward's quick releases in order to pour a barrage of shots on the opponent's goalies and get ahead quickly. Portland has never been the most adept team at blocking shots, though they showed some improvements in the last two games of the Everett series. The Rockets will be looking to get as many shots on Adin Hill as possible early in the games and try to jump out to early leads. Falling behind early, especially on the road, has been a problem for Portland on the road, even to teams they were favored to beat.
2)Get Jackson Whistle to Play His Best.
I would argue that Whistle has played extremely well for the Rockets in the playoffs, after not having a very good finish to his regular season. The 19 year old, who was originally acquired from Vancouver, has won more times then he's lost when it's mattered though the Rocket's coaches do not appear to have a ton of faith in him. Best case scenario for Kelowna is that Whistle comes out and stonewalls Portland's snipers and puts to rest any concern that backup Michael Herringer will take over the starting goalie role.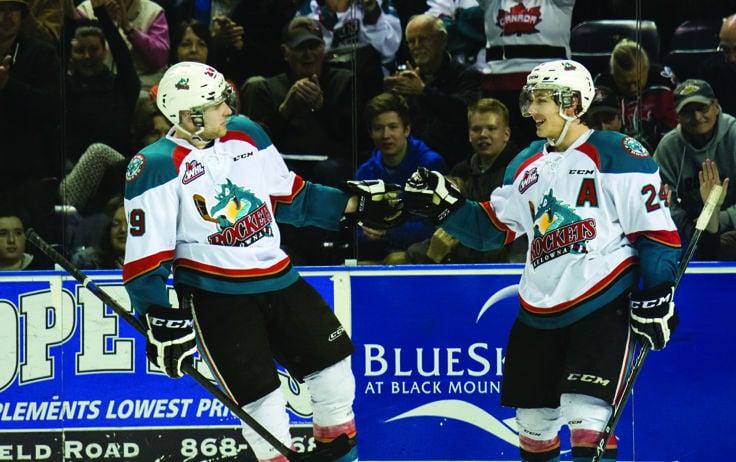 Draisaitl and Baillie
3)Get Your Top Two Lines to Play Like They Are Both #1 Lines.
Both the Draisaitl-Baillie line and the Chartier-Merkley line have the talent to be the best combos on most any team in the WHL that are no longer playing. Draisaitl is the perfect centerman for a sniper like Baillie and he will look to garner as much attention as possible from Portland's D-men before finding the open Baillie in a shooting lane. The other constant for Kelowna offensively has been Merkley and Chartier, who seem to be on the same page at all times. Their scoring pace tailed off, oddly enough around the time when Draisaitl arrived from the Edmonton Oilers. There may have been a feeling that they no longer had to carry the load with the #4 pick in the 2014 NHL draft around. The Rockets need these two to play like they are the ones shouldering the load offensively, especially when given the opportunity to play against Adam Henry and Josh Hanson, whose lack of speed could be exploited.
4)A Healthy Morrissey is a Potent Morrisey.
Josh Morrissey was named the WHL player of the week last week despite only playing in 1 game. 5 points will do that for you. There is probably no better D-man at the Junior level at using goalie screens and at finding the wide open guy in the offensive zone. If Kelowna can keep in the lineup, he will be relied upon more for kickstarting the offense, then for shutting down Portland's top line. He has usually been paired with Cole Martin, who will shoulder most of the load in the Rocket's zone. If Morrissey does end up with the puck in his own zone and under pressure, he is one of the best D-men in the league at getting the puck out of danger, so he should be able to avoid hits that could test his lower body injury.
5)Get Goals From Depth Forwards.
The Rockets boast some players on their 3rd and 4th lines that have proven that they can play on other team's top lines. One of these guys is former Prince George Cougar Chance Braid, who was palying with Jansen Harkins on the Cougar's top line, while he was there. He is asked to play more of a checking role in Kelowna and does that superbly. If he can take advantage of a matchup against Portland's 4th line to add a couple goals in this series, Portland could be in trouble. Another "depth" forward is 16 year old Dillon Dube, who is the future of the Rockets offense, but already launched 17 goals in the regular season and has 3 points in 8 games this post season. With the two Centers playing in front of him, he will not be asked to shoulder too much responsibility, but he has the skill to make the score sheet.
Portland's Keys to Victory:
1) Stay Out of the Box.
Seattle absolutely destroyed Portland on the power play in the first round scoring on 35% of their chances. Mostly through that series and the first game of the Everett series, the Hawks took awful minor penalties. If they do this against Kelowna, there is little doubt that they will pay for it. If they can play a game like they did in the last 4 games of the Everett series and take the game out of the referess hands, there chances will improve dramatically.
Iverson
2)Body Up on the Rockets.
This feels weird to say about the Winterhawks, but they play a physical game that is built for the post season. This is something they have been victimized by in the past, when they got out of their element, by throwing checks instead of keeping the game in a run and gun fashion. This is definitely no longer the case with large players like Dominic Turgeon, Alex Schoenborn, Keegan Iverson playing large roles on the team now and smaller players like Oliver Bjorkstrand and Skyler McKenzie also punishing opponents, while still setting up scoring chances. If Portland can win board battles the way they did in their first two series, they will control possession with their cycle and take the puck away from Kelowna's talented players.
3)Get Crunch Time Adin Hill to be Everytime Adin Hill.
Portland's Goalie appears to play his very best when his team needs a huge stop, while giving up relatively weak goals, late in games that are not that close. Hill is gradually moving up scout's draft sheets, despite playing a strange style in net. One thing he was victimized at earlier this year was breakaways. With several huge stops in the Everett series, this no longer appears to be the case. With Portland's defensemen not extremely gifted with speed from 1-6, it's likely he will need to make quite a few breakaway stops. If he can make these key stops, Portland will use this momentum to set up chances of their own.
4)SHOOTING ACCURACY.
Portland has many gifted scorers, who continually try to pick corners on opposing goalies. Chief among these are Bjorkstrand, Paul Bittner and Miles Koules. The three of them probably lead the team in shots that go high and wide of the net. If Portland can get these three to get more of these shots on frame, there is little doubt in my mind that the Hawks can keep up with the Rocket's scoring.
5)Get More Shots on Net From Your D-men.
Adam Henry and Blake Hinrich have done a great job of jumping into the play and scoring. The other 4 D-men have to do a better job of getting shots through from the point and utilizing the screens of large framed players like Bittner, Schoenborn and Iverson. Everett and Seattle seemed to be able to block over half of Portland's D-men's shots. Kelowna does not rely on shot blocking as much and if the Hawks are able to get more shots through, they can make life difficult for Whistle and Kelowna's defense and create garbage goal opportunities.
Final Prediction: Winterhawks in 7
There are many things the factored in me picking the Winterhawks over the Rockets and thus the upset. Leading this list is the fact that I think Portland is finally starting to get comfortable in their coaches playing system and has been tested by two teams that are both better, in my opinion, then either of the teams Kelowna faced. The Hawks look to have all of the things that I look for in a WHL team that will go far: a)experience, b)at least a few elite players, c)depth lines that can grind a team down and d)a goalie who is playing his best at the best possible time.
I picked the Hawks despite the fact that Kelowna looks like an all star team. I just do not think that they have played together long enough to outlast a team like Portland, when the going gets tough.