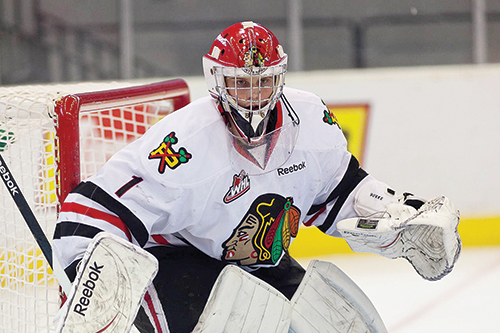 The Portland Winterhawks and their fans have had the honor of watching Mac Carruth provide his stalwart back-stopping from 2010-2013. He earned the starting job over Ian Curtis (20 year old over-age at the time) and Keith Hamilton after showing talent at the age of 18.
Brendan Burke is also 18 this coming season and Hawks fans are hoping that he moves as smoothly into his role as the starting Goaltender as Carruth did. Carruth showed a lot of signs of becoming a top tier previous in the 2011 season, as has Burke last year. Coach Mike Johnston is going to go with Burke as his top Goalie, it remains to be seen if he can lead this team to the Memorial Cup like his predecessor.
Returning Goaltender/ Lock for Starting Job:
-Brendan Burke- Goaltenders are notorious for taking the longest time to develop, especially at the junior level. They are difficult to project as top prospects. Guys like Tim Thomas can come out of virtually nowhere to earn a starting job in the NHL at 32 years old after being kicked around the AHL and over-seas leagues. Burke, though has one of the greatest pedigrees out there in that he is the son of Sean Burke, who played 18 seasons in the NHL and is widely seen as the best NHL Goaltending coach in the league for Phoenix. It surprised no one that Burke and the Coyotes selected the younger Burke in the 6th round in this past year's NHL draft. I am hoping that Burke used the opportunity of attending the Coyote's training camp to gain experience and more importantly confidence. Though he put up really solid numbers last year (2.65 GAA and 90.8 Save %), those could be associated with a group of the best Defensemen that have ever worn a Winterhawk's sweater. Also, Burke had a confidence issue last year. During several games, if he gave up a bad goal or two, he appeared to sit back in his net and let the game come to him, leaving angles open for other goals. Though he has his issues to work through, the confidence and yes added pressure of being named the #1 Goalie, should help Burke become one of the better Goalies in the Western Conference this season.
2 Guys; 1 Backup Goalie Position:
-Jarrod Schamerhorn- The 18 year old from Kelowna, B.C. was a list player for the Hawks. This season is his first chance to play a major role with the
Schamerhorn
Winterhawks. Schamerhorn played with the Nanaimo Clippers of the BCHL and the Beaver Valley Nitehawks of the Kootenay International Junior Hockey League. He then joined the Hawks for the playoff run, as an emergency backup should either Carruth or Burke get injured. He suited up for 2 preseason games last season, as well as, 2 this season. He gave up 5 goals in the first preseason game this year, a loss at Everett and 2 goals in his second game, a 4-2 win over Seattle at the Tri City tournament. I watched him in the second game and Schamerhorn looked great. He looks like he covers his lower angles well and his puck-handling behind his own net was outstanding as well. He faced an onslaught of shots against Everett and gave up 5 goals, but I am hearing that it could have been much worse, were he not to make many top-notch saves. He is my call to win the back-up position with the Hawks, but it would not surprise me in the least were the next guy on this list to make into many games this season as well.
-Adin Hill- The 6'3" 177 lb 17 year old Goalie from Calgary played fantastic in a 6-1 victory over
Hill
Spokane in the Everett tournament and then gave up all 8 goals in an 8-2 loss last weekend against Everett at the Tri City tournament. I was at both games and as the scores would attest, he was great in the first game and awful in the second. This kind of up and down performance is something you can live with in a back up Goaltender, as long as he remains the back up. Hill needs workwith his angles and puck-handling amongother things. The second performance and the fact that they have the older Schamerhorn as a reliable looking backup, will probably keep him out of a Hawks sweater for most of the season. Hill played last season with the Calgary Buffaloes in Midget AAA and will most likely find somewhere else to play when he is not with the Hawks. There is still a good chance that he gets a couple starts if Burke remains at camp, but I cannot see him getting much more time then that.