Back on January 9th (Trade Deadline Day) the Winterhawks traded 17 year old enforcer Steven Alldridge and a 2nd round pick in the 2014 WHL Bantam Draft to the Lethbridge Hurricanes for 20 year old Goalie Corbin Boes, Boes had 51 wins over his career, a 3.52 GAA and a .901 Save % in 152 career ganes for the Brandon Wheat Kings and Lethbridge.
It was a highly criticized move, especially considering the giving up of a hight Bantam pick for a guy slated to be your backup.
In an Oregon Live interview, Coach Mike Johnston referenced Boes' playoff experience as a reason for trading for him.
He started 14 games over 2 playoff runs, notching 5 wins, a 3.90 GAA and a .892 Save %. Those were hardly the kind of numbers that would make a fan get excited.
There is a strong argument though that this move was warranted. In two highly anticipated match ups with the WHL leading Kelowna Rockets, Portland got horrid outings from Goalies Brendan Burke and Jarrod Schamerhorn in 9-3 and 7-2 losses at home. Sure they were missing 4 of their top players, but giving up 16 goals in 2 games is definitely something that warrants attention.
And so far at least, it has worked wonders. Boes made his debut in Victoria the day after the trade. He stopped 31 of 33 shots. The game would go to a shoot out in which Boes gave up the only goal in 6 total team chances and earned a loss in his first start with the Hawks. That would be the last loss the Hawks would suffer so far this month.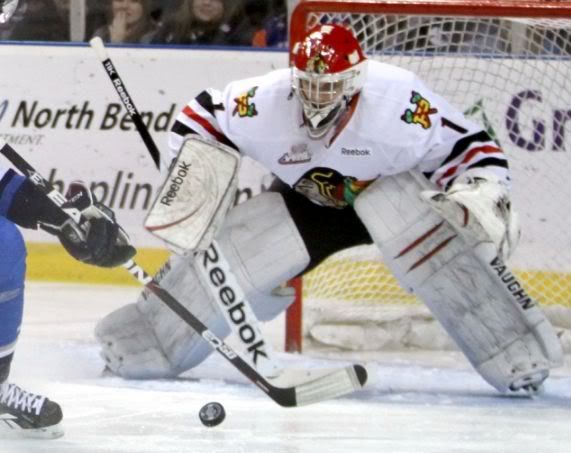 Boes has now started 4 total games since being traded and is 3-0-0-1 with a 2.16 GAA and a .929 Save %. Burke meanwhile has even better numbers since the trade with a 5-0 record, a 1.20 GAA and a .956 Save %. Now those are numbers that would
get even this guy excited.
What has been the difference? Well it could be the addition of another great puck possessing D-man in Matt Dumba, keeping the pressure off of the Goalies. The numbers would seem to back this up as the Hawks have out shot every opponent since and are 6-0 since his implementation into the line up.
However, I would argue that it's more about Burke getting to share the wealth of starts in net. He started a ridiculous amount: 36 of a possible 42, before the trade. This included 9 times when he started back to back games. That is a large burden for a Goalie and especially for a Goalie playing in Portland's high tempo system that leads to facing nearly as many really high quality scoring chances as other shots. Burke getting a chance to rest between starts, bodes well for a long playoff run and gives Portland a back up plan (pun intended), should Burke not start well in the play offs.
This success will count on Burke shelving his ego and sharing the crease that was handed to him earlier this season. So far at least, the Hawks are reaping the benefits of trading for Boes.