The Portland Winterhawks dropped a 5-3 hard fought contest up in Vancouver, B.C. to the Vancouver Giants on Friday night to start the season 0-3 for the first time since the 2007-08 season. The Hawks showed flashes of the team they can be but were ultimately felled by defensive miscues and poor decisions.
Chief among those decisions was, during the second period while the game was tied 2-2, D-man Keoni Texeira lost his cool after being out muscled to the puck by Dalton Sward; got up and delivered
a cross check to the side/back of Sward's head
. This earned him a 5 minute major and a game misconduct. The Hawks were able to kill off that 5 minute penalty, as well as, another minor penalty that forced them to go 3 on 5, but seemed winded rather than inspired afterwards.
The Giants were able to dominate the 3rd period and broke a 3-3 tie with a Vladimir Bobylev snipe from the slot just 1:31 into the 3rd then just kept the Hawks from generating anything in their zone, out shooting them 18-3 and scoring once more for a 5-3 win.
Game Notes:
-Portland's Paul Bittner and Vancouver's Alec Baer were both kept out of the lineup after flight delays caused them to arrive into Vancouver late. They both played in the All American Prospects Gane in Buffalo on Thursday night.
-Adin Hill had a fantastic game, despite giving up 5 goals. He had one series where he robbed both Jackson Houck and Tyler Benson who were allowed to walk in all alone.
-Portland's defense was just terrible most of the night. They consistently lost one on one battles and turned the puck over in bad situations. A prime example of this was Benson winning a draw in the 1st period and chipping the puck past Defenseman Layne Viveiros, who was slow to turn his hips on the play. He then just muscled past the much older Viveiros and walked in all alone to backhand the puck past a helpless Hill. Viveiros is counted on to be one of the top 3 D-men (at least until Hanson and Heinrich get back) and the team cannot afford for him to be constantly victimized by skilled forwards like Benson. Viveiros was a -3 on the night and is now -5 on the season.
-The 16 year old Benson had his second straight great game for the Giants, scoring his first WHL goal and now has a point in each of his first 2 games this year.
-Colton Veloso scored his first WHL goal in this game as well; off the rebound of a Skyler McKenzie shot in the first period. He backhanded it quickly through the 5-hole of Giant's Goalie Payton Lee.
-2 players whose effort seemed to lag as the game went on were D-man Josh Smith and RW Keegan Iverson. This is not a good sign for the first game of a 3 in 3 weekend.
-Anton Cederholm was, not surprisingly, the Hawks best D-man on the night. He made 2 incredible plays on Vancouver's Thomas Foster where he took both him and the puck out of play. A fresh example of how much he will be relied upon this year was how he played the ENTIRE 5 minute penalty kill that resulted from Texeira's hit.
-Portland also got goals from Chase De Leo(on a rebound) and Keegan Iverson(deflection off a point shot) in the game.
-Carter Czaikowski and Brendan De Jong were both dressed in place of Nick Heid. Heid was not on the injury report, so my guess is that these 3 will be alternating through the weekend. Though Heid made a couple poor plays last weekend, I still think he should be earning more ice time then the two 16 year olds.
-Lee stopped 23 of 26 on the night, whole Hill saved 43 of 48.
-Portland was 1/3 on the power play and Vancouver was 0/3.
3 Stars:
#3: Tyler Benson
-Benson was dangerous all night and if not for Hill's great performance, he would've had 3-4 points on the night, rather than just the 1 goal. Look for the hype to increase on this guy as the next 2 seasons go. He is eligible for the 2016 NHL draft.
#2: Vladimir Bobylev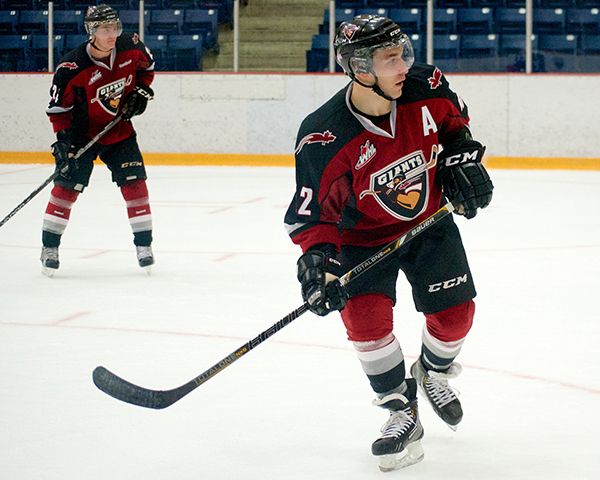 Popoff
-Bobylev was relegated to the 4th line for last weekend's game and the first 2 periods of this one. He showed enough though for him to move up after 17 year old forward Jakob Stukel left. One would think he will stay there after scoring the eventual game winner on a nice snipe.
#1: Carter Popoff
-Popoff had a goal and an assist on the night and was a +3 on the night. He was also impressive defending in his own zone on the night and the line with him and Joel Hamilton and Stukel/Bobylev was the Giant's best 2-way line all night.
Elsewhere in the WHL:
-Brandon 6 Saskatoon 3
Jayce Hawryluk, in his first game back from Florida Panthers camp, had 2 goals (one of them was a penalty shot).
-Medicine Hat 4 Calgary 2
Cole Sanford had a goal and an assist for the Tigers and was a +3 on the night.
-Regina 7 Moose Jaw 1
Connor Gay made his early argument for WHL player of the week with a 4 point night(3 Goals, 1 Assist). Sam Steel had his first WHL goal.
-Edmonton 5 Swift Current 1
Lane Bauer and Brandon Pollock both had 1 goal and 1 assist for the Oil Kings.
-Tri City 3 Seattle 1
Seattle continues to have trouble at the Toyota Center, as they have only won 5 games over the last 5 seasons there.
-Kamloops 8 Victoria 2
The Blazers, who beat the Royals 6-3 last weekend, got 3 points from 5 different players in blowing out the Royals.
-Kelowna 7 Prince George 2
The Rockets were led by Tyson Baillie, Justin Kirkland and Colton Heffley, who all had 2 goals apiece.