Paul Bittner Set To Turn Some Heads in Buffalo
:
-Bittner will suit up for Team Olcyk tonight at 4pm Pacific Time (airing on NHL Network) in the 3rd Annual All American Prospects game; where
42 of the top American born prospects for this coming NHL draft will play at the First Niagra Center in Buffalo.
This is Bittner's best opportunity to be seen by the most scouts and a great outing will likely lock him in as a potential first round pick. Caleb Jones (who was drafted by Portland) will be competing for Team Grier, as will the Vancouver Giant's Alec Baer and the Tri City Americans Brandon Carlo.
At the 2013 AAPG: Chase De Leo had a goal and Keegan Iverson added 1 goal and 1 assist in their team(Team White)'s 5-2 win. Iverson was named the player of the game.
Despite not being selected for the game, Dominic Turgeon and Alex Schoenborn were also American born players selected in last June's draft. This gives a little hope to American born players: Keoni Texeira, Ethan Price, Alex Overhardt, Michael Bullion and Nick Heid who were not selected for the game. Heid was recently listed as a Player to Watch by NHL's Central Scouting.
At the 2012 AAPG: Seth Jones notched a goal and was a +4 for Team McClanahan in their 5-2 win over Team Housley. Jones was then selected 4th overall in the 2013 NHL draft.
Important Players Back in the Fold:
-Chase De Leo was one of 6 cuts made by the Winnipeg Jets on Wednesday, after not getting dressed in the Jet's first preseason game on Monday. He should already be back in Portland should be fresh for the trip up to Vancouver on Friday.
-Anton Cederholm, who was AHL eligible, made a lot of somewhat anxious Winterhawks fans happy, when he tweeted that he was headed back to Portland. Cederholm automatically becomes the workhorse in the back end for the Hawks, as Portland's best defensive D-man. Anton got into one game for Vancouver; against San Jose down in Stockton, California.
I would like to thank
@
VanCanucks
for great two weeks and even greater experiences. Excited to get the season started with the boys in PDX!!
-Keegan Iverson was then sent down by the New York Rangers later on Wednesday, after not getting into the Ranger's preseason game Monday vs the New Jersey Devils.
-Brendan Burke played the 3rd period and Over Time for the Arizona Coyotes against the Calgary Flames in the Kraft Hockeyville game last night. He stopped 7 of 8 shots in that time, but gave up the OT winner to Calgary's Curtis Glencross. It is widely expected that he will be sent back to Portland at some point today, but is not official as of yet.
Petan and Bjorkstrand Still In Camps
-Nic Petan played in his 2nd preseason game on Wednesday evening in Winnipeg's 3-2 loss to Edmonton.Petan skated 15:55 of ice time on a line with Nik Ehlers and Matt Halischuk. He had 2 shots, 1 hit, 1 giveaway, 1 takeaway and was 67% from the face off dot. He also saw 1:23 in Power Play time. The Jets next preseason action is Saturday in Minnesota.
-Oliver Bjorkstrand also skated in his 2nd preseason game; a 2-0 win for Columbus over Pittsburgh on Tuesday. He had 3 shots, 3 hits, 2 giveaways and 2 takeaways in 16:10 worth of ice time and 3:02 of power play ice time. He was not listed as a player that took part in warm-ups before CBJ's game tonight in St. Louis and so will not play tonight.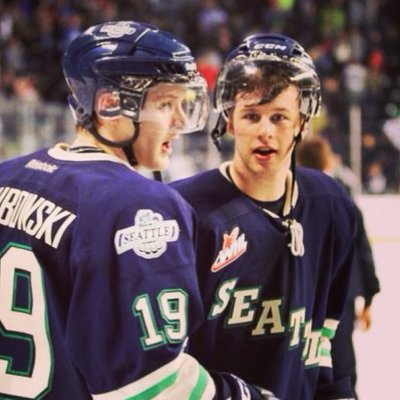 Trades Galore!
-A quartet of deals tooks place in the WHL the last 2 days, 3 of which involved the Calgary Hitmen.
-Calgary sent 20 year old Winger Mike Winther to the Kamloops Blazers for a 4th round pick in the 2015 Bantam Draft.
-They then sent Pavel(Pavlo) Padakin to Regina for a 3rd round pick. He was sent back, unexpectedly when the team overseas he was signed by, lost their arena.
-Lastly, Calgary sent 19 year old, former Everett Silvertip forward Linden Penner to Moose Jaw for a conditional 2016 6th round pick.
-Today, Seattle sent 20 year old Center Sam McKechnie to the Saskatoon Blades for a 6th round pick. This leaves four 20 year olds on Seattle's roster, though Evan Wardley is still at Montreal Canadian camp. The other three that are left are Justin Hickman(out with an injury), Jaimen Yakubowski and Taran Kozun. If Yakubowski is the other 20 year old traded, this would make trading Carter Folk, Riley Sheen and a 3rd round pick last October for McKechnie and Yakubowski look quite awful.
Another Pick? Thanks We'll Take That!:
-Small Thoughts at Large blogger Alan Caldwell reported yesterday that Portland should have another 4th round pick as the New York Rangers sent Adam Tambellini back to the Calgary Hitmen earlier this week and this was a part of the original trade last December. So that's a 1st round pick in 2014(Cody Glass) and now this 4th round pick, all for a player who wasn't even going to play here. Not bad, not bad at all.