Cody Glass will play for Team Red at the U-17's:
-Portland's 16-year-old forward Cody Glass will
suit up for Team Canada Red at the World Under-17 Hockey Challenge
. Glass's team will start play on November first against Team Finland and will play two other preliminary matches against Team Sweden and Team Russia. The tournament goes from November first through November eighth.It appears Glass could miss around four games, while at the tournament.
Keegan Iverson Hit Makes WHL Top 10:
-Iverson's hit vs. Spokane last week, made number six on the WHL's top 10 plays of the week list. Iverson made a similar hit in the traverse city tournament so player's on the bench should be aware when Iverson is lining somebody up.
No Real Changes on Injury Report:
-Austin Gray (illness-indefinite), Carl Ericson (lower body-indefinite) and Igor Larionov II (illness-day to day) are the three names listed on this week's injury report. Larionov II has been listed as "day to day" for the last three weeks now, which is odd. Also, Cody Glass is not on the list, after missing the last two games with a suspected upper body injury. I would guess that he's good to go for this coming Friday's game in Everett then.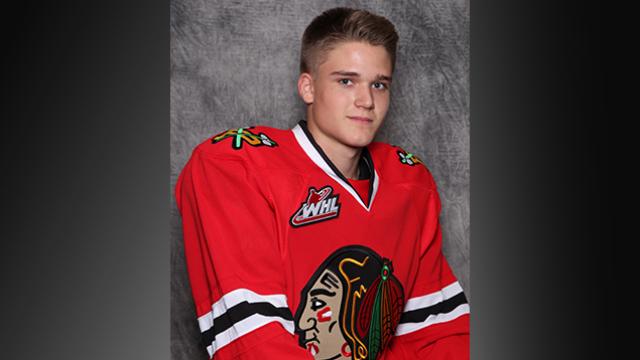 Clayton played in the CSSHL
CSSHL and WHL Partners:
-The WHL announced today that they have entered into a partnership with the Canadian Sport School Hockey League (CSSHL). The CSSHL was created in 2009 currently there are 59 CSSHL alumni in the WHL including current Winterhawk Brett Clayton (Yale Hockey Academy). What this partnership means exactly is unclear, though it may mean that there will be a better system for calling signed players up and re-assigning them, which would be nice for both sides.
Two Thunderbirds and Two Silvertips on Team WHL Roster:
-Mathew Barzal and Ryan Gropp of the Seattle Thunderbirds and Carter Hart and Noah Juulsen were all named to the Team WHL roster for the CHL Canada Russia (formerly known as the Subway Series). The WHL will open the CHL Canada Russia series with games on November ninth and tenth. Everett is schedule to play on Wednesday, November 11th in Spokane, so there is a strong possibility that Juulsen and Hart miss miss that game. The two games are taking place in Kamloops, B.C. and while there are no Blazers on the roster, there
are two Kamloops natives
in Victoria's Joe Hicketts and Seattle's Gropp.
Adin Hill was probably the most likely Winterhawk to make this team, but
as Dylan over at Oregon Live covers,
Team Canada decided to take a look at younger goalies in Everett's Hart and Moose Jaw's Zach Sawchenko.
Cole Sanford Joins Trevor Cox on Injured List:
-The acquisition of Everett's Austin Lotz, may have helped shore up the Medicine Hat Tigers' defense, but they were also dealt another blow with the loss of sniper Cole Sanford. The Tigers were already without Trevor Cox, who is expected to be back in five weeks after breaking his hand. They lost Sanford, who scored 50 goals last season, after he took a charge into the boards from Calgary's Taylor Sanheim on Sunday.
The Tigers felt strongly that the league should suspend Sanheim for the hit
. The WHL agreed and
warranted a three game suspension to Sanheim
for the hit today.. Also, speaking of suspensions, none has been handed yet to Everett's Dawson Leedahl for his hit on Blake Heinrich last Friday, though Leedahl is out with an injury anyways.
Notable WHL Scores:
-Saskatoon jumped out to a two goal lead on Edmonton behind goals from Nikita Soshnin and Cameron Hebig (who now has seven this year), but the Oil Kings stormed back scoring short handed (Brandon Baddock) and off a deflection (Lane Bauer) to force over time. The Blades then won in a back and forth three-on-three over time when Wyatt Sloboshan beat goalie Alec Dillon blocker side.
-Regina got a goal and an assist from draft eligible forward Sam Steel and beat Kootenay 3-2. Daniel Wappleo also stopped 37 of 39 for the win.
-Calgary travelled to Prince George for the first part of back to back games and fell five to two to the Cougars. Jesse Gabrielle scored two goals and Kolby McDonald had three points in the P.G. win.
Former Hawks' News:
Cody McLeod Tossed:
-During the Colorado Avalanche's loss to the L.A. Kings on Sunday, Cody McLeod traded blows with L.A.'s Andy Andreoff after a scuffle behind the Kings' net. Due to the McLeod tilt being the second fight of the melee, both players were assessed game misconducts.
Morrow Back with Bruins:
-Joe Morrow was back at practice today for the Boston Bruins. Morrow had been out with the flu but has now returned to the fold. Boston has to pare down their roster and they will likely look at one of their eight D-men to do so. While, Morrow did not play well to start this season, it was likely due to him not feeling well. Hopefully, the Bruins will let him play at least another game or two before making a decision on him.