Portland's Power Play Now 0/14 on the Season:
-All other WHL teams, besides the Hawks have scored a power play goal this season. This places them firmly in last in the WHL in this category. The excuse Portland had for a poor power play to start the season last season: that they were missing most of their top players at NHL camps is not there this year, so what's the problem? Here are some of my guesses:
Lack of a PP Quarterback: Portland has used a variety of their top 4 D-men (Keoni Texeira, Caleb Jones, Jack Dougherty and Blake Heinrich on the top PP unit). Prior to Jones showing some signs later in Saturday's game, none of these four have put themselves above the rest enough to warrant turning the power play over to them. Texeira and Dougherty probably have the best slap shots of the four, while Jones seems to be the one with the best ice vision and creativity. Unfortunately, even with a confident Jones back there, Portland really struggled getting point shots past the Everett shot blockers. They have to start getting shots through in order to create some more scoring chances down low, where the Hawk's many big forwards have an advantage.
Chemistry Issues: The 2nd power play forward unit consisting of Alex Schoenborn, Carl Ericson and Rodrigo Abols, despite not playing together during 5 on 5 hockey much, actually looks to have a little better chemistry out there then Dominic Turgeon, Paul Bittner and Keegan Iverson do so far. In fact, they played together so well that Coach Jamie Kompon placed Ericson on the line in place of Skyler McKenzie in the 3rd period Saturday. If the top PP forwards continue to not click, look for the 2nd unit to get more time.
Poor Bounces: If the puck is not bouncing your way, even if you are controlling the play on your PP, you are gonna have a hard time potting man-advantage goals. Several times during the last couple games on the PP, Portland has had the puck on or near the goal line and has not been able to find it in time to score. Sometimes, they've even been doomed by an early whistle when the Goalie did not have the puck covered. With the way this team is currently built, they are going to rely upon these bounces much more in these situations then last year's squad did.
-Overall, the more these guys play with each other, especially Dougherty and Jones on the back end of the power play, I would look for Portland to start potting some goals on the mad advantage. Schematically though, I don't quite understand why the Hawks are not gearing plays up for Paul Bittner on a one timer, the way Everett dos for Patrick Bajkov. Instead they seem to like using Bittner in front as a screen instead, which is not using his skills to their fullest in my opinion. Maybe, this change is in the cards when these guys get more used to playing with one another.
Barzal, Watson Return to Seattle:
-As if the 0-3 Hawks did not have enough to worry about, their rivals up north have two of their best offensive weapons back from the professional level. Jamal Watson is an over-age acquired in the off season from Lethbridge, who impressed at Montreal camp. He had been with Montreal's AHL team: the St. John's Ice Caps, but is now back in Seattle. Meanwhile, N.Y. Islander's first round pick: Mathew Barzal is back in town after spending the entire preseason with the Isles. Their return should help the T-birds, who have dropped two of their first three games this year.
Ice Trade One of Their 20s; Get Descheneau Back:
-Kootenay traded one of their over-age forwards this week, as
they traded Jon Martin to the Swift Current Broncos for a 4th round pick in 2016.
The Ice still have some tough decisions to make as they still have five 1995 born players, four of which count against the three 1995 born player minimum currently, as D-man Tyler King is on the injured list. They are left with Goalie: Wyatt Hofflin, D-man Tanner Lishchynsky and Forwards: Descheneau and Luke Philp.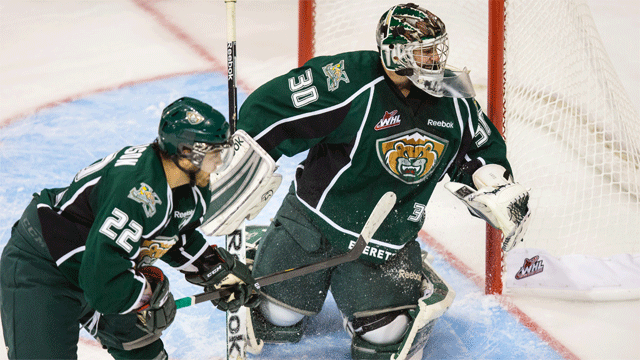 Lotz
Lotz Leaves the Tips, Home Awaiting Trade:
-Austin Lotz, who is only three years removed from single-handedly keeping the over-matched Everett Silvertips in a series with the #1 seeded Winterhawks, is now no longer with his team. He is apparently home in Alberta, awaiting a trade to another WHL team. The problem, though, is there appears to be little market for an over-age Goalie right now, even for one with past of a guy like Lotz. This could be a situation where he is waived and ends up playing in the AJHL or even the OHL or QMJHL, if all WHL teams pass on him.
New Pucklandia Podcast:
-In the second of a series, I think they should call "Talking Ole Time Hockey with Hockey Dads," the guys over at Pucklandia chat with former ECHL (1988-91) player and Father of current Thunderbird D-man Turner Ottenbreit:
Grant Ottenbreit.
Rocket's Defense an Issue:
-Andy Eide over at Sportsnet has a
good WHL overview
article up, going over the previous week in the Dub. He makes the point that Kelowna is having trouble keeping the puck out of their own net without guys like Madison Bowey and Josh Morrissey. The Rockets do have Goalie: Jackson Whistle back after he took an errant stick to the throat, but they are still giving up a lot of goals, while on their Alberta swing right now. They are in Medicine Hat tonight and are probably looking for a better defensive effort against the offensively talented Tigers.
Ty Kolle Left off B.C. U-16 Challenge Cup Roster:
-Portland's fourth round pick from the 2015 Bantam Draft was a finalist for the B.C. U-16 roster, but was left off the final roster that was announced Monday. Kolle is currently with the Cariboo Cougars of the BCMML and has yet to sign a contract with the Hawks. So far this season with the Cougars, the 15 year old has
5 points and 25 Penalty Minutes in just 6 games.
Rattie to Start Season in the AHL:
-Former Winterhawk: Ty Rattie (2008-13) was sent down to the AHL by the St. Louis Blues and so will start the year with the Chicago Wolves, where he was an All Star last season. Rattie had a strong camp, but according to
Head Coach Ken Hitchcock, was only going to be kept at the NHL level, if he could break into the top 9 forward group.
Since this wasn't the case he though it would be better for Rattie's development to start the year in the AHL. I would not be surprised if he the very first player called up by the Blues this year.
Petan
Nic Petan to Start Season in NHL:
-Meanwhile, Rattie's former line mate: Nic Petan is going to be on the Winnipeg Jet's opening night roster. Petan even adjusted his number to the familiar #19 in preparation for his NHL debut. The Jets seem to want their 4th line to be a skilled group as they are also going to keep around the very skilled Dane: Nik Ehlers as well.
Pouliot Demoted:
-After a really poor camp for Pittsburgh Penguin's D-man and former Winterhawk (2009-13) Derrick Pouliot was sent down to the WBS Penguins of the AHL right before the NHL season starts. Former Hawks Coach/GM
Mike Johnston did not sugar coat the fact that Pouliot did not prove he was playing like he was ready to be an NHL regular
and from the little I've seen of Pouliot's play this year, I would agree with him. Hopefully this move will hake Pouliot awake and he will become the pro that he showed the potential to be back in 2012/13 for the Hawks.
Leier Gearing up to Prove He Should be Called up to NHL:
-
A good Hockey's Future article profiling former Hawk: Taylor Leier
(2011-14). He had a great half of last season and looks to build upon that in order to catch Philadelphia's eye and get called up to the NHL. Unlike Rattie, I think Leier's pro team would not hesitate to place him in a 4th line, limited minutes role in the NHL.