Portland (4-3-0-1, 9 points, tied for 7th in the Western Conference and 4th in the U.S.Division) vs. Tri City (4-6-0-1, 9 pts, tied with Hawks for 7th and 4th respectively)7:00 pm at the Moda Center.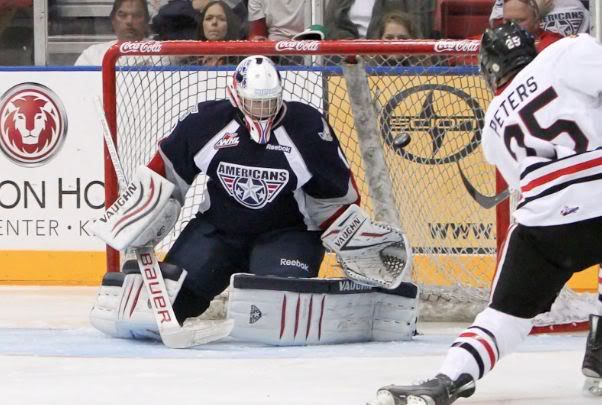 Eric Comrie
Season Series:
-Tri City took the first of 10 scheduled affairs between the 2 squads 6-2 September 24th in Portland behind a hat trick from Brian Williams and a fantastic 30 save performance from Eric Comrie. Brendan Burke was chased in the game after giving up 6 goals over 2 periods. He was hung out to dry by his defense for several of those goals, in perhaps the Hawks worst defensive performance of the season.
Tri City This Season:
-The Americans started out slow only winning 2 of their first 8 games, before winning consecutive games over the struggling Kamloops Blazers last week. In their last game, they hung tough against the Seattle Thunderbirds, despite getting out-shot 44-29; losing 4-2 in their second game of back to backs.
Williams
-Center Brian Williams leads the team with 8 goals and 5 assists, scoring all 8 goals over only 3 games (2 hat tricks).
-Tri City has scored 2 goals or less in 6 of their 11 games played this season, as they are obviously struggling at putting the puck in the net.
-The most goals they have scored this season was the game against Portland.
-Eric Comrie has started all but one of their games so far, has played very well behind a struggling team, with a 2.53 GAA and a very nice: .925 save %. He really seems like he has stood on his head for the Americans, keeping them in games they are being badly outplayed in.
-Tri City has only lost by one goal in 4 of their 7 losses.
-Connor Rankin also has 13 points for the Americans (5 goals and 8 assists), but the next highest scorer has 6 pts (Lucas Nickles). Having played 11 games so far, this is just not enough scoring.
-They are missing 2 forwards who will probably end up in their top 6 with 1995 born Parker Bowles (44 pts last year) out til mid November and Kennewick native, Taylor Vickerman, out until late November.
Tot
-If you are an American's fan, you are probably wanting more from 20 year old Phil Tot. In his first healthy season with the team. He has 2 goals and 3 assists in 11 games, but has yet to register a multi-point night. He had a 45 point season in 2011-12 with a bad Lethbridge Hurricanes team, so he is a guy who can score. He has yet to do much with an Americans sweater on.
-The Americans 20 year old Captain: Defenseman Mitch Topping is being relied on to play a ton of minutes and will be expected to provide more scoring from the back end (1 Goal and 3 Assists so far).
Tonight's Game:
-Expect the Hawks to want to exempt revenge upon the Americans for a bad home loss the last time around.
-On paper they have far more accomplished Forwards than the Americans and so should dominate the puck possession; playing right into their style of play.
=Eric Comrie will try to stonewall the Hawks early like he did last time around, keeping his team in a tight game, until the Ams can capitalize on some Portland mistakes.
-Portland has been much better on the defensive side over the last few games and should not have nearly as many turnovers as they did last time around.
-Tri City does have some speedy forwards and love to pressure the other team's defense. In particular: Layne Viveiros and Garrett Haar have really looked uncomfortable with speedy pesky fore-checks, coughing up the puck regularly.
-Keegan Iverson is out for this game, his last game served in his 4 game suspension.
-Dominic Turgeon made his season debut against Kamloops last Saturday and should start playing more minutes in this one. He is expected to fill the Taylor Peters 3rd line Center role this season.
-Brendan Leipsic and Nic Petan have yet to explode for a huge point night this season and it's only a matter of time before the reigning scoring champs start to pour it on.
-Paul Bittner (broken hand) and Shane McColgan (hand) are still out for the Hawks as well.
-Oliver Bjorkstrand is sitting 4th in the WHL in points with 18, despite playing in 2 less games then the other top scorers.