It was a great one last night in Portland's Moda Center, as Portland raced out to two different 3 goal leads before holding on to a 6-4 victory over the previously undefeated Spokane Chiefs 5-4.
Portland rode a 4 point night from Nic Petan and a surprising 3 point night from Alex Schoenborn (2 goals and 1 assist) to pace them to the victory.
The Hawks were flying early, perhaps inspired by the Chiefs getting all of the accolades last week after racing to a 4-0 start in convincing fashion. The Hawks scored 4 goals in the first period, two from Schoenborn, who nearly netted a hat trick in the period, taking a 4-1 lead into the break.
Garret Hughson, Spokane's 18 year old Goalie, settled in after that and made countless saves as the Hawks pressed in the last 2 periods, allowing his team to sneak back into the game and have a chance at tying lat in the 3rd period, before Petan netted an empty netter, ending the scoring at 6-4.
Portland was only 1/7 on the power play, while Spokane was 2/6,as referees Jeff Ingram and Andrew Wilk seemed unwilling to match any penalties up and enforced one penalty on alternating skirmishes throughout the night.
Hughson stopped 33 of 38 shots, while Brendan Burke, getting his 5th straight start, stopped 27 of 31.
Observations From the Game:
-Schoenborn, who only had 2 points over all of his WHL season, had 3 point in this one with 2 goals and 1 assist. He has looked impressive ever since his pretty goal against Tri City last Tuesday.
-Derrick Pouliot returned to the lineup and got one assist on the night. He did have an impressive end to end rush on the power play, but seemed out of sync for the most part on his return to Junior hockey play and his first in game action in over 2 weeks (he sat out the last 3 Penguin's preseason games).
-Taylor Leier left the game in the 1st period and did not return after colliding awkwardly with a Chiefs player. If Leier is ruled out for Friday against Kelowna, it will mean that Portland will only have 10 available, healthy forwards to start against the Rockets (they get Brendan Leipsic back from suspension on Saturday).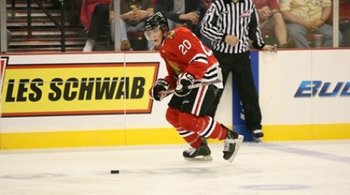 Leier
-Burke was shaky at times in this one, but made a humongous save on WHL leading scorer Mitch Holmberg with under a minute left in the game,as Holmberg was all alone in front of the net.
-Nic Petan finally had a break out game and added 4 points to his previous 8, for 12 on the season. He seems like he started finding some chemistry, with fill in players Presten Kopeck and Schoenborn on what used to be the Hawk's top line.
Holmberg
-Holmberg, who came in with 14 points in 4 games so far on the season, had 3 assists and was probably the games overall best player, as he created a significant amount of scoring chances for the Chiefs and was the player who carried them offensively when they seemed to lack any counter attack.
-The games first goal, scored by Petan, demonstrated the hard work that the Hawks have used to turn around the first part of the season. Kopeck threw a hard check in on Spokane's Jeremy McIntosh and freed up the puck for Schoenborn to find Petan alone in front. As long as they continue to put this kind of hard work in on the fore-check, the Hawks should be able to overcome the significant losses among their forwards.
-Anton Cederholm got into his first fight in the WHL, when he sparred with Liam Stewart, after Stewart took exception with a nice check that Anton laid on him.
-Bjorkstrand's 2 goals, give him 8 on the season and 14 points overall. This ties him with Holmberg and Tri Citie's Brian Williams for first in goals in the WHL.
-Holmberg kept his lead in overall points with the 3 assists, giving him 17 points overall, a 3 point advantage over Bjorkstrand.
3 Stars:
#3- Alex Schoenborn- 2 goals and 1 assist, for the North Dakotan 18 year old. He has really been an enigmatic player for the Hawks in his 2 seasons. He played well at times last season, before going down with an injury during the Hawks eastern swing and never really got back on track. He finally seems to be rewarding the Hawks coaching for relentless confidence in a guy, who at times, looked like he did not belong at the WHL level. Schoenborn looks like he may be on his way to earning a consistent spot with Petan and Leipsic on the top line.
#2- Mitch Holmberg- Despite being nearly a point per game player the last 2 seasons, the 20 year old has not been drafted and seems to be playing for a pro contract, like Troy Rutkowski, Taylor Peters and Tri Citie's Justin Feser were able to do last season.
#1- Nic Petan- He really seems to be improving again this season , in much the same way as he was able to improve last season. Petan's break out 4 point night, hopefully will lead him to many more in the near future. This will be important as Petan is quickly becoming Portland's most important player.