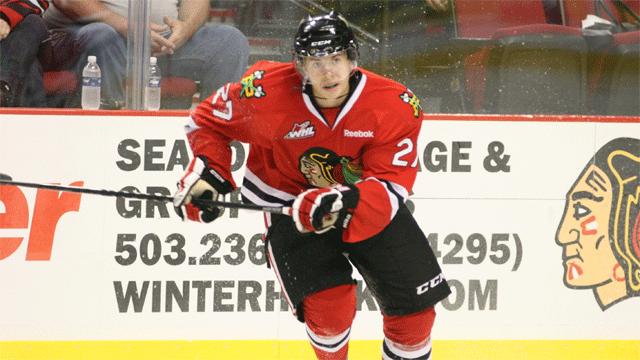 Seattle and Portland start their first round series and here at Hodge's Heroes I've spent this week looking at different aspects of the upcoming series. I've covered:
The History of the Seattle Portland Playoff Rivalry
;
The Head to Head Stats
and a
Position by Position Breakdown.
In my last preview post before before the series starts Saturday night, I want to go over the keys to victory for both teams and then I will give my ultimate prediction.
What Does Seattle Have to do to Beat Portland?:
1)Keep Portland's top line in check as much as possible.
-We've seen over the season that the best way to keep Nic Petan, Oliver Bjorkstrand and Paul Bittner in check is to keep them in their own zone as much as possible; making them burn as much of their shift, working defensively. Coach Jamie Kompon puts them out there for long shifts, so if you can get them to use all of their energy before they even gain the puck, they will not have as many scoring chances.
Theodore
-Tasked with this is Scott Eansor and likely Calvin Spencer and Nolan Volcan. The best puck possession player of this group is Eansor, so he will have to take the lead.
-On the defensive side, I think Seattle will put both D-pairings of Shea Theodore-Jerret Smith and Jared Hauf-Evan Wardley against the Hawk's top line. Depending on how they do, will likely determine which one they trust more.
2)Get Shots Through from the Point.
-Seattle has several Defensemen with great slap shots: Shea Theodore, Ethan Bear, Evan Wardley and Jerret Smith. With the system Portland plays, they often leave room out on the point for D-men to get their shots off cleanly.
-Cory Millette is Seattle's best forward at getting a stick on these shots and tipping them on net. Portland has often left Forwards untouched in front, giving them room to get a tip off.
-Missing Justin Hickman and Keegan Kolesar will be huge in this aspect of the game as they both have large frames that act as good screens in front of the Goalie. Calvin Spencer may have to try and fulfill this role.
3)Don't Take Penalties.
Portland's power play operated at 21.5% in the regular season against Seattle and a lot of those power plays were without Petan and Bjorkstrand. Time and space, which Seattle will try and limit, will be tougher when Portland has one more man. Also, if Seattle is taking a lot of penalties, it will mean that Portland's puck movers are being successful at controlling possession. So in a sense if Seattle can stay out of the box it will mean that they are doing a good job of staying in their lane defensively and will help them from giving Portland gift wrapped opportunities.
Lipsbergs
4)Ride the Big Guns.
-Barzal, Lipsbergs and Gropp are Seattle's best offensive creators and will need to be on the top of their game, especially if this becomes a back and forth affair. These three are good enough to create many scoring chances and how much they capitalize on these chances will be key in this series. If, in the first 2 games, the big three are in the plus column and each have more than 2 points apiece, Seattle will probably have won at least one more game.
5)Hope Kozun's a Wall.
-Taran Kozun was recently named Western Conference Goalie of the year and has been the most consistent backstop all season. We know he does not have many bad games, but does he have it in him to steal a series? Well, he did steal last year's first round vs. Everett, but that Tips team was not sporting 8 NHL draft picks throwing pucks his way. Seattle will only go as far Kozun can carry them.
What Does Portland Have to Do to Beat Seattle:
1)Limit Turnovers.
-This was a huge issue early in the season for the Hawks. Pizza after pizza was thrown right up the middle for team's to take advantage of. Assistant Coach Kyle Gustafson has made large improvements in this area and this has cut down on the turnovers. There is still a lot of pretty loose play near the Portland blue line and neutral zone, leading to a lot of odd man rushes the other way. If Portland's players can keep from playing fast and loose by the blue line, expect them to creat more chances at Seattle's net.
McKenzie
2)Create a Consistent Fore-check.
-On the flip side, Seattle's D-men can be susceptible to some pretty poor turnovers themselves. A lot of them do not have a lot of playoff experience and if Keegan Iverson, Evan Weinger and Skyler McKenzie can throw the body around, turnovers will occur and Portland's skilled forwards will capitalize.
3)Get Offensive Production from the Blue Line.
-No Portland D-man had double digit goals, so point shots do not often find the back of the net. Activating properly has also been a little bit of a challenge. Adam Henry is by far the most skilled at jumping up into the play and if he can find the right time to do this, it makes Portland's offense a whole lot better. Henry will get a lot more playing time, if he is able to seamlessly work his way into Portland's zone control.
4)Make Clutch Plays at Clutch Time.
-Much has been made of Nic Petan's 70 playoff games played and how much more "experienced" Portland is at playing this time of year. While, I think this may be a bit overwhelmed, you can't help but notice that when Portland really needs to get a big win (save the last weekend of the season), they played with playoff intensity. However, if a game is tied late or is in OT, I would not bet against players who have been in that position many, many times.
5)Have Hill Make the Big Stops.
-The one guy with 0 playoff experience is one of the most important players for the Hawks to make a run. Even when Portland is at their best, they often give up a lot of scoring chances in the other directions. If Hill can stand tall when faced with these chances, Portland will be given the opportunity to turn momentum back the other direction.
What Will Happen?
-Portland gets the goals when they need them and jump out to a 3-1 series lead, before finally closing it out in 6 games.
Portland in 6.